Date:
June 22, 2009
Contact:
Brian Feeney
, 718-354-4606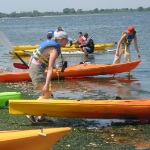 WASHINGTON – "Mom, Dad, I'm bored!" So goes the dreaded refrain of a kid with a case of the summer squirmies.  No worries – national parks can shake
the squirmies.
A new web feature, www.nps.gov/getaways, launching today, will highlight one, of the almost 400 national parks, every week this summer to help families find places to run off that extra energy or just relax and enjoy some fresh air. Of course, national parks are also great places to learn and keep the brain energized over the summer too (but don't tell the kids!).
Comin up in July is the second of three Fee Free Weekends in the National Park Service. From July 18-19  the National Park Service is waiving entrance fees nationwide.  There will be no entrance fees, commercial tour fees or transportation entrance fees at national parks from August 15-16 as well.
Park partners, including tour operators and vendors, are joining in, too, by offering special discounts and promotions.
For more information on fee free weekends visit:
https://www.nps.gov/findapark/feefreeparks.htm
At Gateway National Recreation Area visit our homepage each week to find out what programs, walks and talks are available at www.nps.gov/gate, visit the "This Week at Gateway" link to find out more.
To plan your national park adventure visit: