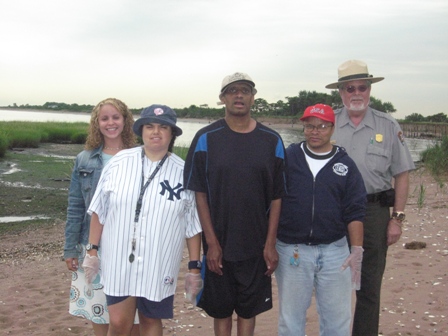 News Release Date:
August 24, 2009
Contact: Jane Ahern, 718-354-4607
It's not often that one hears the words results, accomplishments, independence, opportunity, experience, and pride in one conversation. But, if you spend a little time talking with Community Resources Program Manager Toni Decker and Gateway National Recreation Area (GATE) Park Ranger Steve Salgo, you will. They both have been instrumental in connecting people with developmental disabilities to valuable volunteer opportunities at GATE.
Community Resources is a Human Service Agency serving special needs people in Staten Island, New York since 1953, including: residential services, prevocational services, and medicaid service coordination. Community Resources provides the opportunities and experiences that will allow each person to maximize their social, emotional and cognitive strengths and by reaching their potential, enjoy the best quality of life. "The group first began working at Fort Wadsworth in 2006," said Salgo. "The program was such a benefit to the park and our maintenance division that we expanded their work to include other sites within the Staten Island Unit this summer."
At GATE the group has worked on many maintenance beautification projects including cleanups at historic Battery Weed, multiple use pathways at Great Kills, sites at Miller Field such as the White Swamp Trail, Veterans' Memorial Circle and sports fields, as well as the scenic overlooks at Fort Wadsworth. "The group always looks forward to their work at Gateway, it gives them something to look forward to each week and a sense of purpose," said Decker. "They are definitely tired at the end of the day, but in a good way! They often take their families to the park on weekends to show them the work they accomplished."
Community Resources provides transportation, staff supervision and materials for the work at the park. "The returns to the park are enormous," added Salgo. "First, visitors see firsthand how their work improves the look of the park and they also see great people showing that they do have alot to contribute to the community." Salgo will continue work with Community Resource in 2010 with the new Director on Day Habilitation Services Raquel Mercado. "I'm looking forward to our continued parthership with the park, to find out what other opportunities there are to provide more real work experiences for the wonderful people in this program," said Mercado.
Community Resources is a voluntary, nonsectarian, not-for-profit, human service agency, established in 1953 by a group of concerned parents who unified to identify much-needed alternative services for their developmentally delayed and disabled children. Many volunteer hours to maintenance projects have been contributed to the NPS by Community Resources since their work at the park began in 2006.