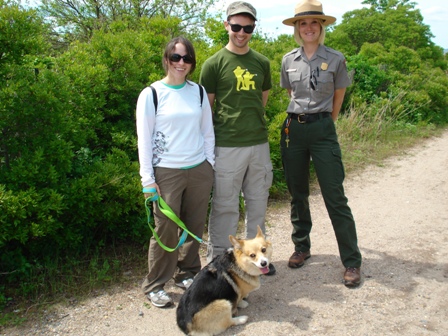 News Release Date:
May 21, 2012
Contact: Bruce Lane, 732-872-5912
Gateway National Recreation Area has issued its annual revision of the park compendium which details a park's basic operations and responsibilities to visitors. A compendium includes hours of operation for areas of the park, permits issued by the park and activities which are permitted or prohibited. The 2012 compendium is available online at https://www.nps.gov/gate/parkmgmt/lawsandpolicies.htm.
"Gateway, like all parks, must balance visitor enjoyment and safety with the preservation of resources that draw visitors here in the first place," said Superintendent Linda Canzanelli. The compendium, which is revised annually, sets that balance. She was especially happy that this year's compendium opens new areas for public camping at Staten Island's Fort Wadsworth and at Sandy Hook, N.J. "We want to make it easier for more visitors to have a great national park experience here in the New York City area while continuing to give our historic structures and natural areas the care they need."
Other changes to the compendium include a streamlining of how visitors can apply for permits. Permits are needed for professional photo or video shoots and special uses of the park which go beyond basic visitor use or which may have potential impact on the park, among other activities. For more information about permits, visit https://www.nps.gov/gate/planyourvisit/permits.htm
Title 36 of the Code of Federal Regulations details most of the laws and regulations for national parks and other federal lands. The compendium, on the other hand, is developed internally within a national park and contains rules that are subject to the superintendent's discretionary authority. These rules are enforceable by law enforcement rangers and U.S. Park Police. 
About Gateway National Recreation Area
Established in 1972, Gateway National Recreation Area offers more than 26,000 acres of marshes, wildlife sanctuaries and recreational athletic facilities, miles of sandy beaches; indoor and outdoor classrooms; picnicking and camping areas, as well as historic structures and military installations, airfields, a lighthouse, and adjacent waters around New York harbor. The park offers urban residents in two states a wide range of recreational opportunities year round. With more than nine million visitors a year, it is the third most visited national park in the country. For information about Gateway's upcoming public programs, see the park's Web site at https://www.nps.gov/gate/index.htm
--NPS--