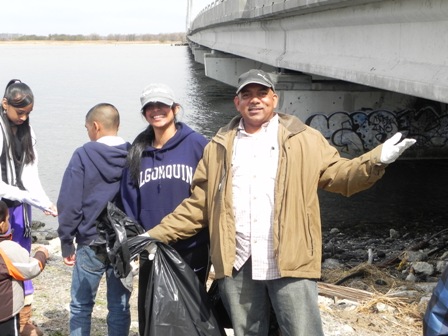 News Release Date:
August 1, 2012
Contact: Colleen Sorbera, 718-318-4340
WHAT: Gateway invites all volunteers to help clean up North Channel Beach in Queens, which looks out onto Jamaica Bay. This beach is used by visitors who fish or sunbathe and also by individuals of various faiths for religious expression. For the last few years, the National Park Service has worked with local communities to promote our "Leave No Trace" policy at the beach, particularly with the nearby Hindu community. Nonetheless, debris from fishing line to items used in religious rituals can still be found at the beach. These items pose a danger to wildlife that calls Jamaica Bay home and can be a danger to humans as well.
WHERE: North Channel Bridge (also called the Joseph P. Addabbo Bridge) on Cross Bay Boulevard, Queens, between Howard Beach and Jamaica Bay Wildlife Refuge.
WHEN: August 4, 2012, 3:00 P.M. to 4:30 P.M.
WHO: Anyone can volunteer!
NOTE: Please call 718-318-4340 to sign up. Bring work gloves, water and sun and insect protection. Park Ranger Colleen Sorbera said, "Jamaica Bay is enjoyed by many people today. It is also a vital ecosystem for birds, fish and other forms of life. If we can take care of it, the bay will continue to be a wonderful place for people and wildlife alike for generations to come."
--NPS--