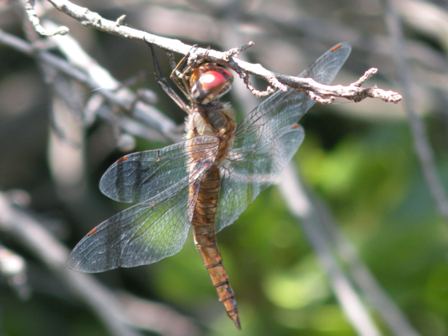 News Release Date:
August 5, 2009
Contact: Jane Ahern, 718-354-4607
"Deep in the sun-searched growths the dragon-fly hangs like a blue thread loosened from the sky."
-Rossetti, Dante Gabriel
Gateway National Recreation Area's (GATE) Great Kills Park is participating in the Staten Island Dragonfly Atlas (SIDfA) program. Great Kills is located in the Staten Island Unit of GATE and the area provides habitat that contributes to specie richness and an abundance of dragonfly populations. The SIDfA project is the brainchild of the Nature Section of the Staten Island Museum.  This 5-year project is designed to collect and analyze data about dragonfly populations on Staten Island. National Park Service (NPS) Volunteer Paul Lederer and Great Kills staff are participating in this citizen science endeavor to compile dragonfly information.
The Staten Island Museum maintains the online database where people can submit their observations. This database helps Dragonfly enthusiasts join together and instantly contribute their observations to SIDfA project. "It's really exciting, a new species was recently seen for the first time on Staten Island," said GATE Park Ranger Kathy Garofalo. "The mosaic darner was seen and photographed by a SIDfA volunteer at High Rock Park, not far from Great Kills Park." Thanks to the photograph they were able to identify the amazing creature as Staten Island's first recorded Spatterdock Darn (Rhionaeschna mutata).
Park staff have entered their sightings in this citizen science effort and have attended a dragonfly workshop. Seth Wollney of the Staten Island Museum and NPS VIP Lederer Paul Lederer trained participants in species identification keys and explained the protocol manual. "We are hoping to learn about the diversity of species," added Garofalo. "We hope to observe more insect behavior and be able to compare population trends observed during this study."
For more information about the online database visit: http://www.birdingonstatenisland.com/sidragonfly/ For information about the program at Great Kills contact Park Ranger Kathy Garofalo at kathy_garofalo@nps.gov