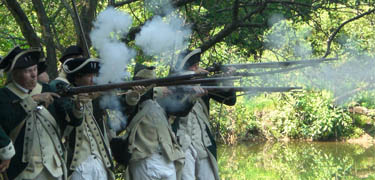 News Release Date:
August 24, 2011
Contact: Geri Kobryn-Blatter, 718-354-4500
MEDIA ADVISORY
WHAT: Gateway National Recreation Area hosts a Living History Commemoration of the 235th Anniversary of the Battle of Brooklyn, also known as the Battle of Long Island, which will feature Revolutionary War soldiers in various military demonstrations, English colonial dancing demonstrations and lessons and a re-enactment by George Washington's Spy, who visited Staten Island after fighting in the Battle of Brooklyn. 
The program will also present two historians who will discuss the role of Staten Island and New York during the Revolutionary War. Edwin G. Burrows, co-author of Gotham: A History of New York to 1898, which won the Pulitzer Prize for History in 1999. Phillip Papas is author of That Ever Loyal Island: Staten Island and the American Revolution. 
WHERE: Gateway National Recreation Area's Visitor Center at Fort Wadsworth, located at 120 New York Avenue, Staten Island. 
WHEN: Sunday, August 28, between 11:00 A.M. and 3:00 P.M. 
WHO: 4th Battalion, New Jersey Volunteers; Authors Edwin G. Burrows and Phillip Papas.
NOTE: Most activities can take place indoors. However, in case of severe weather dur to Hurricane Irene, the park may be closed and all programs cancelled. Call 718-354-4500 the day of the event. This program is funded by a grant through the New York State Council for the Humanities.   
--NPS--