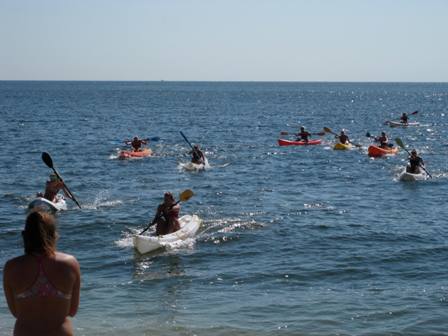 News Release Date:
July 28, 2011
Contact: John Harlan Warren, 718-354-4608
On weekdays, Nora Neustadt works for a magazine in Manhattan, where her colleagues wonder why she has such a great tan. On weekends, she saves lives. For nine summers now, she has climbed into a lifeguard chair at Jacob Riis Park, part of Gateway National Recreation Area.
Yesterday she took a day off, as she has almost every summer since she was a teenager, to compete in the 27th annual All-Women Lifeguard Tournament at Gateway's Sandy Hook Unit in Highlands, New Jersey. She joined over 150 women lifeguards from teams in four states. "I start working out seriously in the fall," she said. It worked. The Riis Park team placed sixth in the Division II run relay, one of ten contests that took place during the tournament.
Sea Colony topped the Division I title, while Gateway's own Sandy Hook Unit won Division II. Top individual performers were Division I's Julie Wisler from Sea Colony and Division II's Jessica Lester from Long Branch, New York. Both women also won their divisions' respective "Ironwoman" contests. (Teams with nine guards or fewer were placed in Division I; larger teams in Division II.) Click here for final race results and final team results.
Competitors worked at beaches, pools and lakes in Delaware, Maryland New Jersey and New York. Annick Bérard-Giasson and Marcela Rojas, who scored fifth in surf rescue, both work in Ocean City, Maryland but live in Montreal. (Rojas is originally from Columbia.) "We're used to being the only girls in other tournaments," Bérard-Giasson noted. "Here it's friendlier, with all the other women---I get to talk to more people. But when the races start, that's another story!"
Ashley Tomasura, from Island Beach State Park in Berkeley Township, stood on the shore, cheering her teammates. Last year, her first to compete in the tournament, she placed sixth in the boat race and 12th in Ironwoman. "I would have competed like I did last year," she said, "but I broke my ankle." She will try again next year.
The tournament served as the perfect complement to Coca-Cola's America is Your Park campaign. At a community event near the end of the competition, Coca-Cola donated $10,000 to the Sandy Hook Foundation. This donation will be used to purchase a lifeguard boat for Gateway's Sandy Hook Unit. Coca-Cola's Live Positively campaign encourages healthy living at America's parks. Participants can vote for their favorite national, state or local park, with the winning park receiving $100,000 from Coca-Cola.
The Women's National Basketball Association (WNBA), which partners with Coca-Cola to promote healthy living, hosted a Fitness Clinic during the lifeguard competition. Approximately 50 members of the Girl Scouts of the Jersey Shore dribbled basketballs, ran relays and skipped rope with Kayte Christiansen, former player with the Chicago Sky. In her remarks at the donation ceremony, Christiansen thanked the Girl Scouts for their enthusiasm. "It's a beautiful day," she said, noting the clear blue sky. "Let's renew our commitment to our bodies and our health."