A Family Fun Day at Sandy Hook May 23 2010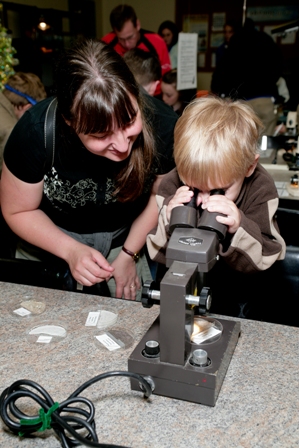 News Release Date:
May 13, 2010
Gateway National Recreation Area is the place to visit on Sunday, May 23 from 10:45am – 4pm.  Visit Fort Hancock, Sandy Hook and celebrate Coastal Defense Day and Ocean Fun Day. Opportunities to discover fortifications, tour gun batteries, touch sea creatures, and tour an aquarium are just some of the activities planned throughout the day. The event will kick off at 10:45am with a special ribbon cutting ceremony to celebrate the opening of the latest extension of the beloved Multi-Use Path (MUP).  Visitors are encouraged to bring their bicycles to tour Fort Hancock and the rest of Sandy Hook in an eco-friendly way! 
While touring, be sure to collect your "Sandy Stamps!" Visitors can collect all six "Sandy Stamps" from locations within Fort Hancock and receive a free gift (while supplies last) from the National Park Service. The "Sandy Stamps" reflect the Sandy Hook experience. Visitors will have the opportunity to learn about the natural and historic treasures of Sandy Hook while enjoying the outdoors.
Beginning at 12 noon, Gateway National Recreation Area, in conjunction with the Army Ground Forces Association (AGFA), is offering Coastal Defenses Day.  Volunteers from AGFA in World War II uniform will bring Battery Gunnison and its 6-inch guns to life as it was in May of 1943.  Guests will participate in loading the guns and learning how to point them and track ships.  The plotting room will be open and the magazine will also be accessible so visitors can learn how ammunition was stored and handled. Other gun batteries, including Battery Potter, will also be open for visitors to discover how Sandy Hook's fortifications defended New York Harbor from the 1890s to the 1970s.
Visitors can drive out to Fort Hancock and stop at the parade grounds in front of Building #22, home to the New Jersey Marine Sciences Consortium (NJMSC), to take part in Ocean Fun Day.  Sponsored by New Jersey Natural Gas, Ocean Fun Day celebrates the wonders of the Jersey shore.  Visitors will enjoy hands-on exhibits, classes, nature tours and children's activities.  Professional marine scientists, researchers and environmentalists will be present to talk about
how to preserve coastal resources so they will be enjoyed for years to come.  There will be fiddler crab races, touch tanks, seining for sea life, eco tours and workshops, youth fishing clinics, research tours, face painting, sandcastle workshops, giveaways and more. 
Next door to the NJMSC, the National Oceanic and Atmospheric Association (NOAA) labs will be open to the public and guests will be able to visit the laboratories, aquariums and find out more about the scientific work done at the James J. Howard Marine Laboratory.
The Roseland Amateur Radio Club will be conducting shortwave radio broadcasts from the Sandy Hook Lighthouse, the oldest working Lighthouse in the United States.  Volunteers from the New Jersey Lighthouse Society will be on hand to give guided tours to those who wish to climb to the top of the lighthouse (stop by the Lighthouse Keepers Quarters early to sign up for a tour on a first come-first serve basis).  Inside the 1884 Lighthouse Keepers Quarters, guests can see exhibits on New Jersey lighthouses and view videos about the endangered piping plover and the osprey of Sandy Hook, produced by the Sandy Hook Foundation.
The History House, Building 20, will also be open to the public.  The house is an 1898 lieutenant's resident along "Officer's Row," furnished to the 1940s era when Fort Hancock was at its busiest.  World War II re-enactors will be present with WWII era vehicles on display, and refreshments will be served.
For those people wishing to explore Fort Hancock on their own, take the walking-tour map which brings visitors by 37 special way-side stations that will offer a comparison between past and present Fort Hancock.
"The event highlights the successful partnerships Gateway National Recreation Area has developed and sustained for so many years," said Sandy Hook Unit Coordinator Pete McCarthy. "By working collaboratively with our partners we are able to provide visitors with a variety of experiences that concentrate on history, marine science, natural history and recreation."
Lunch can be purchased on the Parade Grounds in front of the New Jersey Marine Sciences Consortium.  Admission to the park is free for Coastal Defense Day and Ocean Fun Day visitors and parking is available.  Please join us for a wide variety of activities on Sunday, May 23!  Call the Sandy Hook Visitor Center, open daily from 10am – 5pm, at 732-872-5970 for more information. 
Last updated: February 26, 2015