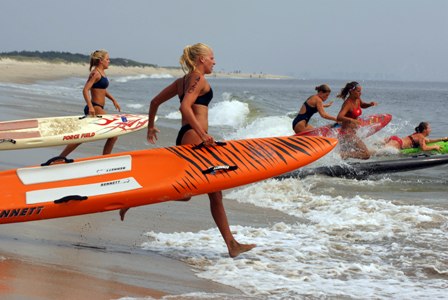 News Release Date:
July 27, 2009
Contact: Brian Feeney, 718-354-4606
On July 29, 2009 two hundred outstanding female competitors representing federal and municipal lifeguard services will take part in the 25th annual National Park Service All-Women Lifeguard Tournament, held at the park's Sandy Hook Unit.
"Since its inception, when 55 women representing six lifeguard services from two states competed, the tournament has steadily grown in popularity," said Water Safety Coordinator Carl Martinez. "We've even had violent storms some years, but that never dampened the drive of our competitors."
The annual tournament is the largest in the nation devoted to women-only competition It features competitive events that test for speed, stamina, and skill in such aspects of surf-lifeguard work as running, swimming, paddling a surf-rescue board or an ocean kayak, and rowing a surfboat. The yearly competition is part of Gateway National Recreation Area's continuing effort to showcase the high level of fitness and skill women bring to surf-lifeguarding—and thus provide impressive role models so others will consider this line of work for women.
Visitors are welcome to come to the event and cheer the lifeguards on as they compete.
WHERE: Gateway National Recreation Area, Sandy Hook, New Jersey.
Tournament site: Beach Area E
Competition starts at 8:30 a.m. and concludes at 1:45 p.m.
Awards ceremony: 2 p.m.
Map and Directions to the 25th Annual All-Women's Lifeguard Tournament