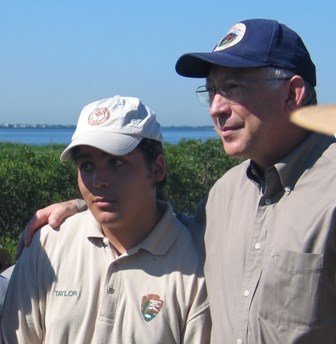 Protecting Wildlife One Bird at a Time:
Project Feederwatch, A Youth Volunteer Blog
My name is Taylor Ramos and I am a volunteer at the Jamaica Bay Wildlife Refuge of Gateway National Recreation Area. My school, John Bowne, wanted me to volunteer or work for 300 hours. I chose to volunteer because I want to help with the community. When I completed the 300 hours, I still wanted to volunteer because I had an amazing experience at Jamaica Bay. The rangers were so nice. The ranger that I worked with on a regular basis was named Julia Clebsch. Julia was the lady who gave me all the jobs I needed to do. I maintained the trails by cutting trees that would block the trail. I also went on tours with the rangers to identify many different birds. I also constructed fences to block where people are not allowed to walk. I worked with rangers Eric, Kayleigh, and a YIP (Youth Intern Program) intern named Joe.