Project Feederwatch 2011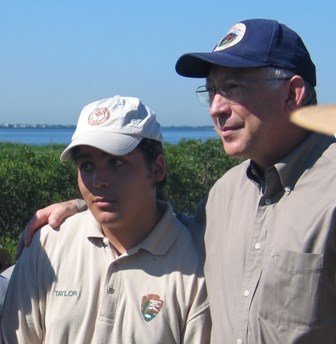 Protecting Wildlife One Bird at a Time:
Project Feederwatch, A Youth Volunteer Blog
My name is Taylor Ramos and I am a volunteer at the Jamaica Bay Wildlife Refuge of Gateway National Recreation Area. My school, John Bowne, wanted me to volunteer or work for 300 hours. I chose to volunteer because I want to help with the community. When I completed the 300 hours, I still wanted to volunteer because I had an amazing experience at Jamaica Bay. The rangers were so nice. The ranger that I worked with on a regular basis was named Julia Clebsch. Julia was the lady who gave me all the jobs I needed to do. I maintained the trails by cutting trees that would block the trail. I also went on tours with the rangers to identify many different birds. I also constructed fences to block where people are not allowed to walk. I worked with rangers Eric, Kayleigh, and a YIP (Youth Intern Program) intern named Joe.
I'm in my senior year of high school and I have become a YCC member. I have a lot of experience at the refuge. I work side by side with rangers Colleen and Dandelion. We go on many trips to patrol the beach near the North Channel Bridge to see if there is anything harming the wildlife. We also work with the volunteers in getting rid of invasive plants like mugwort, tree of heaven, oriental bittersweet, phragmites, and buckthorn. Most of these plants are here to stay but we try our best to keep the population down.
In this blog, I am going to be writing more about what I do here at the refuge. I'm going to begin working on Project FeederWatch, a bird watching citizen science project. The Jamaica Bay Wildlife Refuge is known around the world as an excellent place to watch birds.
- Taylor Ramos
Last updated: February 26, 2015