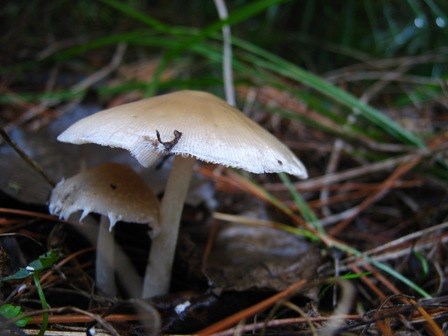 Beautiful, brief and sometimes deadly
Mushrooms are always a surprise. They might appear one day and disappear the next, depending on season, temperature and rainfall. It takes an expert to tell the difference between yummy mushrooms and deadly mushrooms. Unless you are a mycologist yourself, do not consume any mushrooms from the wild.
Mushrooms appear in all kinds of shapes and sizes, ranging from the familiar cap-and-stem variety, to spherical balls, tubular protrusions, shelf-like disks and delicate cups. They are evanescent, appearing and disappearing within a few days or so, depending on season, temperature and rainfall.
In dry exposed areas such as Floyd Bennett Field or Breezy Point, mushrooms can be a rare find. But after a good rain, they may be popping up in droves between spring and fall. So keep your eyes peeled. Mushrooms are easy to miss but a delight to discover!