Floyd Bennett Field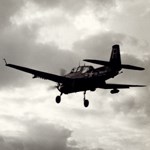 New York City's first municipal airport
Floyd Bennett Field was opened as New York City's first municipal airport on May 23, 1931. Throughout the 1930's, it was the site of many important first and record breaking flights, which helped to advance aviation technology during the "Golden Age of Aviation."In 1941, Floyd Bennett Field was sold to the United States Navy and became Naval Air Station-New York. During World War II, Floyd Bennett Field was the busiest naval air station in the United States. The field was used for training and antisubmarine patrol flights. It was also the home of the Naval Air Ferry Command which was responsible for the acceptance, commissioning, and ferrying of naval aircraft from the factories to the fleet.

Tour Floyd Bennett Field:
Hangar B, home to Floyd Bennett Field's Historic Aircraft Restoration Project (HARP). Click here for more information.
More history information:
For a more detailed history of Floyd Bennett Field, Click here.
Floyd Bennett Field has a "Teaching with Historic Places Lesson Plan". Click here to learn more.
Last updated: August 19, 2019