Buildings of the Sandy Hook Proving Ground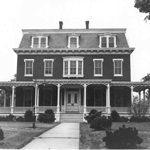 The Sandy Hook Proving Ground was begun as a temporary facility and did not become a permanent installation until 1903. Because of this, the first structures were all wooden with the exception of the Officers' Quarters, also referred to as the "Brick House". This Second Empire style red brick structure was completed in 1879. This building was expanded by the Proving Ground and later became the Fort Hancock Officers' Club when the Proving Ground left Sandy Hook. It was modified by Fort Hancock. One unique change was that they exterior was painted yellow to match the brick color of Fort Hancock's buildings. To read the Historic Structures Report of Building 114, click here.
Between 1905 and 1909, red brick buildings were constructed to replace ones destroyed by fire and other wooden structures. This included a barracks, a chemical laboratory, storehouses, repair shops, and a locomotive roundhouse.
Of the over 100 structures that existed in 1919, only 13 remain today. View the slide show to see some photographs of the buildings that are still standing.
Last updated: February 26, 2015