Fort Gates on Sandy Hook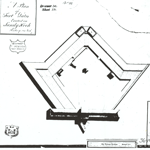 Fort Gates was a temporary 2nd system fortification constructed of wood. The U.S. Army along with New Jersey and New York militias units occupied Sandy Hook during the War of 1812. Fort Gates was constructed in 1813, and a wooden blockhouse was added near the fort in 1814.
It was not until 1859, that the first permanent fortification began construction on Sandy Hook. The Fort at Sandy Hook was a 3rd system fortification.
Last updated: February 26, 2015