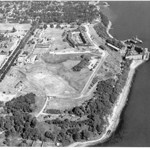 Fort Wadsworth is one of the oldest military installations in the nation. The site occupies 226 acres on the northeastern shore of Staten Island, on the Narrows of New York Harbor. Rich in history and natural beauty, Fort Wadsworth affords you the opportunity to observe an important part of our nation's history, while offering magnificent views of New York Harbor.
For more detailed history, click here.
Cultural Landscape Report for the Battery Weed Headland, pdf
A History of Fort Wadsworth, New York Harbor, Cultural Resource Management Study, 1983.
Battery Weed and the Fort Tompkins Quadrangle are listed on the National Register of Historic Places.