Fort Wadsworth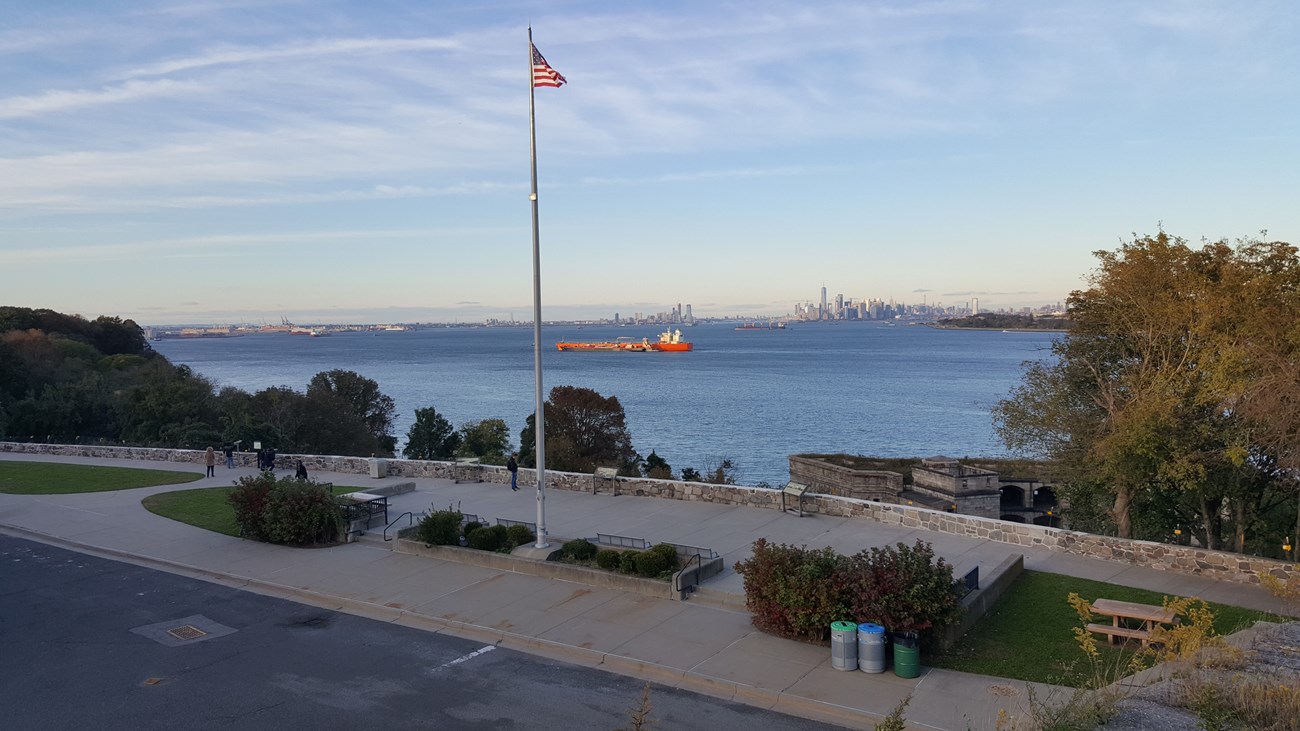 The Fort Wadsworth visitor center is open Friday through Monday from 10 am to 4 pm.

Fort Wadsworth is one of the oldest military installations in the nation. The site occupies 226 acres on the northeastern shore of Staten Island, on the Narrows of New York Harbor. Rich in history and natural beauty, Fort Wadsworth affords you the opportunity to observe an important part of our nation's history, while offering magnificent views of New York Harbor. You can sit at the overlook and watch the harbor, ride your bike (click here for bike path map), run or walk through the fort.

Find a detailed history of Fort Wadsworth here.
.
Interested in the two islands (Hoffman and Swinburne) you can see from the Overlook? Find out more about them here.

Interested in learning more about the Lighthouse at the top of Battery Weed?

Email us for information about all types of permits, including wedding photos at the overloook. .
Operating Hours
Fort Wadsworth is open daily from 6 a.m. to 9 p.m.
Facilities

Fort Wadsworth Visitor Center: Explore indoor exhibits about Fort Wadsworth's role in protecting New York City. Open Friday-Monday from 10 am to 4 pm.
Mont Sec House (112 A Mont Sec Ave): Open for special programs. Visit our event page to find out more.
Walking and biking trails: Walk (or run) througout Fort Wadsworth. You can also bike along the road. Bike racks are available at the Visitor Center.
Fort Wadsworth Overlook: Take in great views of the NYC harbor and learn about the importance of Fort Wadsworth in the defense of Manhattan.
Driving Directions
From the east:
Take Verrazano - Narrows Bridge from Brooklyn.
Stay in right lane and take the Bay Street exit (exit 15).
Turn right onto School Road.
Turn right onto Bay Street. Take Bay Street to the park entrance.
From the west:
Take either the Goethals or Bayonne Bridge from New Jersey to the Staten Island Expressway (Interstate 278)
Staten Island Expressway (Interstate 278) east to the Lily Pond Ave. exit (Exit 15).
Merge onto Narrows Road South.
Turn left at the light onto Lilly Pond Avenue, which will turn into School Road.
Turn right onto Bay Street. Take Bay Street to the park entrance.
Public Transportation
Take the S51 from the Staten Island Ferry Terminal to the park entrance on Bay Street. (Please note - some buses will come through Fort Wadsworth, you have to look at the front of the bus).
Last updated: November 30, 2022