Detailed History of Fort Wadsworth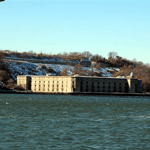 The area encompassing what is today Fort Wadsworth was first fortified by the British in 1779. They held this prime defensive location for the rest of the Revolutionary War.
New York State began planning for construction of masonry and earthen fortifications on this site around 1807. During the War of 1812, both U.S. Army and New York State Militia guarded the Narrows from these structures. This represented the 2nd system of fortifications.
The present fortification known as Fort Tompkins was constructed between 1859 and 1876. This granite and brick fort replaced a masonry fort of the same name built by New York State.
Fort Richmond was constructed 1847-1862. It replaced an earlier masonry fort of the same name. It was renamed Battery Weed in 1902. This granite fort represented the 3rd system of fortifications and stood guard during the Civil War.
In 1865, the name Fort Wadsworth was given to Fort Richmond to honor Brevet Major General James Wadsworth, who was mortally wounded at the Battle of the Wilderness during the Civil War. The entire post was named Fort Wadsworth in 1902.
During the early 20th century disappearing gun batteries of the Endicott Era were constructed. They were manned by Coast Artillery soldiers.
Shortly after World War I, Fort Wadsworth became an infantry post. Coast Artillery soldiers continued to man the seacoast defenses through World War II.
From 1955 until 1960 Fort Wadsworth was the headquarters of the 52nd Anti-Aircraft (AAA) Brigade. The unit oversaw the Nike Missile firing batteries of the New York Defenses until moved to a new missile master facility in Highlands, New Jersey.
The United States Army Chaplain School was located at the site from 1974 until 1979 in Fort Tompkins. After the Army vacated the site, the U.S. Navy made it headquarters of Naval Station New York.
In 1994, the Navy turned over Fort Wadsworth to the National Park Service's Gateway National Recreation Area. The United States Coast Guard also uses many buildings and housing.
Last updated: June 21, 2019