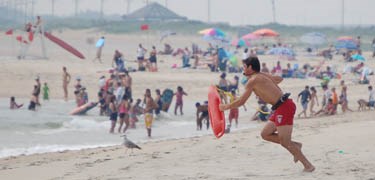 Pre-employment tests for surf-lifeguards began Dec. 26, 2017
Gateway's three units --- Sandy Hook, Staten Island and Jamaica Bay --- regularly hire lifeguards for the summer season. The pre-employment tests for surf-lifeguards begins on December 26, 2017 at Elizabeth High School in New Jersey. The last test currently scheduled for 2018 is on March 25 at Elizabeth HS.
Please remember- if you are under 18 at the time of the test you must have a parent or guardian to sign the release form required for all test takers.
Check out things you need to know about the tests.
You can also see the test calendar and information about the test sites.