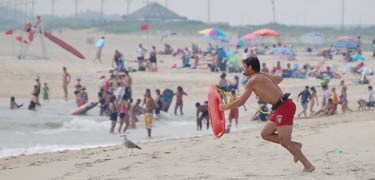 Pre-employment tests for surf-lifeguards began Dec. 26, 2016
Gateway's three units --- Sandy Hook, Staten Island and Jamaica Bay --- regularly hire lifeguards for the summer season. The pre-employment tests for surf-lifeguards begins on December 26, 2016 at Elizabeth High School in New Jersey. The last test currently scheduled for 2017 is on April 23 at Elizabeth HS.
Please remember- if you are under 18 at the time of the test you must have a parent or guardian to sign the release form required for all test takers.
Check out things you need to know about the tests.
And the test calendar.