Barracks Building 22 Restored, Thanks to Dynamic Partnership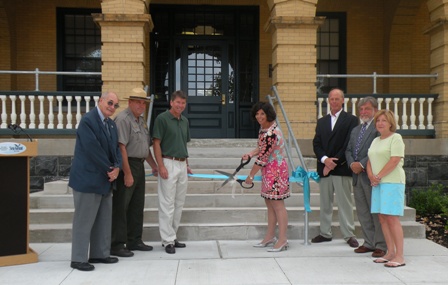 News Release Date:
July 15, 2010
Contact: John Harlan Warren, 718-354-4608
As a boy, Guy Hembling visited Fort Hancock, a former Army fort at Sandy Hook, New Jersey which is now a unit of Gateway National Recreation Area. He noticed several buff brick buildings dating from the Spanish-American War era—former barracks and officers' quarters which had fallen into disrepair. What a shame, he thought to himself, that such beautiful buildings were not restored and put to use.
On Monday, July 12, Hembling watched as giant scissors cut the ribbon to the entrance of one of those structures, Barracks Building 22. His construction firm Charles B. Hembling and Son rehabilitated the historic Army structure based on a plan by the architects at Kaplan Gaunt DeSantis. Workers took ten months to restore the exterior to its appearance during World War II, when the fort was at its busiest.
Cutting the ribbon was Claire Antonucci, Executive Director of the New Jersey Marine Science Consortium/New Jersey Sea Grant (NJMSC/NJSG). Antonucci hoped that "this project will inspire other groups like us to know that it is possible—not easy—but possible to bring these buildings back to life." Dignitaries attending the ribbon-cutting and reception included U.S. Representative Frank Pallone, Jr., New Jersey State Senator Sean T. Kean and Sandy Hook Unit Coordinator Pete McCarthy. The National Park Service partnered with NJMSC/NJSG through all stages of the restoration of the Barracks.
NJMSC/NJSG is a consortium of universities, colleges and likeminded groups dedicated to advancing stewardship of New Jersey's coastal and marine environment through education, research and outreach programs. NJMSC/NJSG has used the Barracks for offices and classes since 1972, two years before Sandy Hook was transferred to the National Park Service. A 2005 grant from the New Jersey Historic Trust, gave the capital campaign a major boost. NJMSC/NJSG was required to raise equal matching funds.
Restoration work could be puzzling—literally. Victor Simon of Kaplan Gaunt DeSantis recalled spending a hot summer day in a warehouse counting and sorting through piles of custom-sized bricks that had fallen from the fort's historic structures. One "exciting find" was an intact baluster, which helped architects restore the wood porch and balcony. The ocean side of the Barracks took a beating from the salt air, eroding brick mortar and damaging window units.
McCarthy recalled "some enjoyable discussions" measuring historical accuracy with the needs of NJMSC/NJSG, including 20,000 students who visit the Barracks every year for education programs. Should the railings be painted "restful white or cottage cream?" (They agreed on restful white.) The attention to detail paid off. McCarthy called the restoration "a real winner" of which "the NPS is very proud." Indeed, the project did win a Historic Preservation Award from the Monmouth County Historical Commission only last month.
Dr. Howard Parish, Vice Chairman of the NJMSC/NJSG Board of Trustees, conducted marine biology classes in the Barracks basement back in the 1970s for Jersey City State College. At the time, improving the building's condition "appeared initially to be an insurmountable task." But, he added, its location was perfect: "What better place to teach about the ocean than the beach?" At least two of Dr. Parish's former students were in attendance, wearing NPS uniforms: Unit Coordinator McCarthy and Park Historian Tom Hoffman, who offered mini-tours of the building's history after the ribbon cutting.
Now that the exterior is restored, work can begin on the interior of the building. A century-old building offers plenty of challenges. What fire suppression system would work best? How will planners comply with the 1990 Americans With Disabilities Act? Can an efficient, green air conditioning system keep employees and students cool on hot summer days? NJMSC/NJSG will seek more fundraising—and engage in more enjoyable discussions with the NPS—as these pieces of the puzzle begin to fit together.
Last updated: March 31, 2012