Carnifex Tunnel Is Closing
Date:
March 24, 2014
Contact:
Robin Snyder, 304-640-0724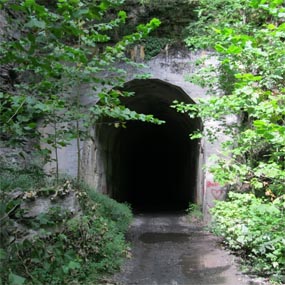 Glen Jean, WV,March 24, 2014–The National Park Service will be closing the Carnifex Tunnel, which is part of the rail grade along the Meadow River, a tributary of the Gauley River. This area of the rail grade / tunnel is primarily used by local hunters to reach hunting leases on private land. Park Visitor and Resource Protection staff has historically used this route for emergency access to the Meadow River. Federal Highway engineers inspected the tunnel in the fall and found the crumbling ceiling caused unsafe conditions for pedestrian and vehicle traffic, and as a result the park is permanently closing the tunnel. Fortunately, the upriver section of the rail grade from the tunnel can be reached from Shawver Bridge Road.
After the Federal Highway's inspection last fall, NPS posted signs to the tunnel as "enter at your own risk", while staff investigated options for repair. Park staff looked at a short term fix of knocking down the loose concrete from the ceiling, but this was not a viable option as it would only be a temporary surface repair. Due to the extensive drainage issues and structure fractures, additional damage would continue to occur during rain events and freeze / thaw cycles. This would require further repairs. This option also did not provide assurance that the tunnel was safe for visitor and employee use. The park estimates a longer term fix to be cost prohibitive, so a permanently closure will be completed by the end of the month.
According to park superintendent, Trish Kicklighter, "The tunnel is too unsafe for visitors and employees to use. Signing alone will not deter people from using the tunnel and visitor and employee safety has to be our highest priority." While hunters and community members have an alternate route to access lands along the Meadow River; eventually the park plans to build a pedestrian and bike trail around the tunnel so the rail grade can provide access up and down the Meadow River and connect to Fayette County's proposed Rail Trail. 
The National Park Service holds the safety of visitors and community members as a top concern. We apologize for any inconvenience this may cause for the local community. For questions and concerns, please contact Robin Snyder at 304-640-0724.
Park updates will be posted to the park's website at www.nps.gov/neri. You can also find updates on the park's Facebook page at https://www.facebook.com/newrivergorgenps or follow us on Twitter at https://Twitter.com/NewRiverNPS.
Last updated: February 26, 2015