Weather
Winter is long and summer is active in the 8.4 million acre Gates of the Arctic National Park & Preserve in northern Alaska. Flanked to the north by the North Slope and Arctic Coastal Plain, and to the south by the Yukon River upland drainages of northern Interior boreal forest and wetlands, the climate of the area is a land of extremes.
Below timberline (on the south side of the Brooks Range), the climate is generally classified as sub-arctic, with exceptionally cold winters far below zero degrees, relatively warm summers, low annual precipitation, and generally high winds.
Moving north and across the Continental Divide in the Brooks Range, the northernmost mountain chain in Alaska, the elevational range of the park (1,000 to 8,000+ feet) produces local variations in weather and climate. Above timberline, at about 3,000 feet, and on the north side of the Brooks Range, the climate is generally classified as arctic with cooler summers, slightly warmer winters (-20 to 0ºF at higher elevations due to prevailing cold air inversions), even less precipitation, and increased winds, compared to the sub-arctic landscape below and within timberline on the south side of the park.
Generally speaking, winter temperatures range from 0 to -50ºF, the warmth of the sun returns in March, rivers are usually free of ice and runnable in mid-June, snow and freezing conditions happen in every month of the year, and the first significant snows return to the mountain slopes in late-August, blanketing them by mid-September. Always be prepared for colder-than-expected conditions.
Weather forecasts for Gates of the Arctic and the surrounding area
Click any area on the map below to direct to the National Weather Service forecast for that area.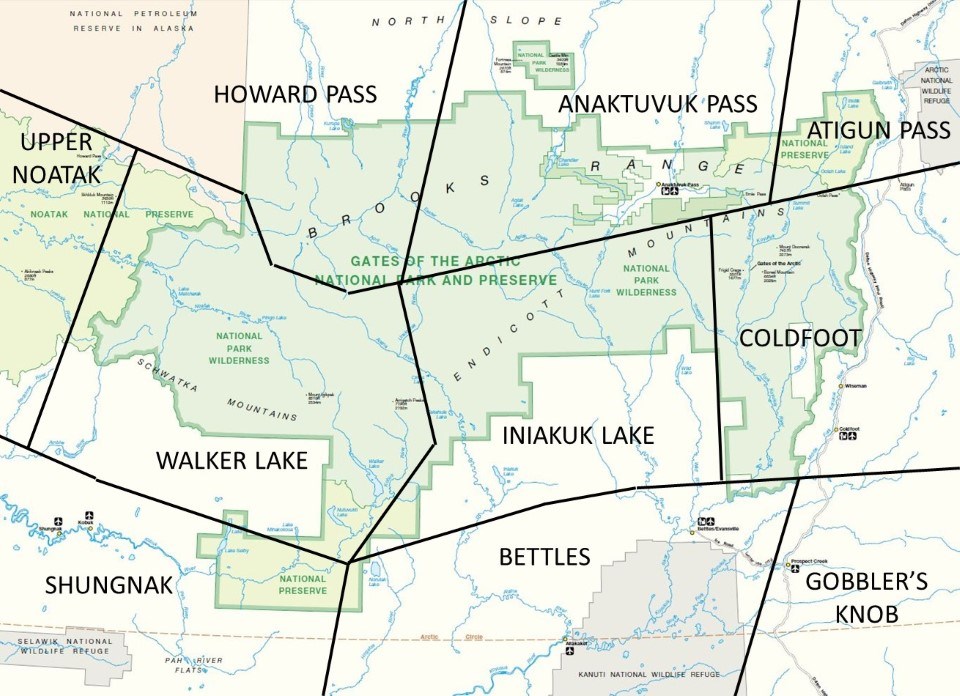 View the current conditions at the following locations in Gates of the Arctic:
Upper North Fork Koyukuk - Upper John River - Arrigetch - Killik Pass - Noatak River
Other Forecasts
River Flow Forecasts by the National Weather Service for Gates of the Arctic.
Koyukuk River flow reading below John River (at Old Bettles) provided by the river gage cooperatively managed by the National Park Service and US Fish and Wildlife Service.
Alaska Aviation Weather Forecasts by the National Weather Service.
Alaska Weather Webcams, including Anaktuvuk Pass, Bettles, and Coldfoot.
Alaska Aurora Forecast by the University of Alaska - Fairbanks Geophysical Institute.
Last updated: August 30, 2018