Hunting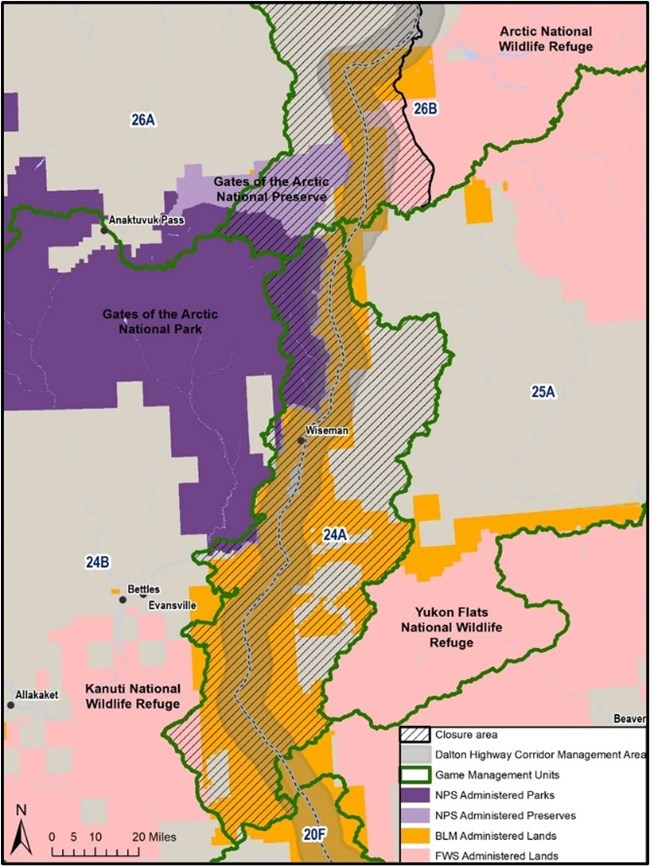 NOTICE:
Changes in Federal Sheep Hunting Regulations
in Units 24A and 26B.

Closure of Federal public lands
to Dall sheep hunting by all users.
Sport hunting and trapping are permitted in Gates of the Arctic National Preserve, but not in Gates of the Arctic National Park.
To hunt and trap in the preserve, you must have all required licenses and permits and follow all other state regulations.
The National Park Service and the State of Alaska cooperatively manage the wildlife resources of the Preserve. An Alaska State hunting license is required for all hunters age 16 or older. Bag and possession limits vary by species and by area. Always check current Alaska state hunting regulations.
For further information on Alaska hunting and where to get a license, visit the Alaska Department of Fish and Game Website.
Please keep in mind that many areas within the preserve are private land. Do not enter private land without the landowner's permission.
Hunters are responsible for knowing current hunting regulations. Hunters must carry valid driver's licenses or photo identification, hunting licenses, harvest tickets, and tags. Hunting licenses can be purchased at any license vendor or online at Hunting and Trapping Licenses and Permits, Alaska Department of Fish and Game. Hunting regulations are enforced by National Park Service Rangers and Alaska Fish and Wildlife Protection Troopers.
Commercial Activities
A business or an individual must obtain either a Concession Contract or a Commercial Use Authorization (CUA) prior to conducting any commercial activity in Gates of the Arctic National Park & Preserve.
These contracts and permits are issued and administered by the National Park Service (NPS).
Visit our webpage Do Business With Us to download a list of authorized commercial guides in Gates of the Arctic or to obtain a permit to conduct business in the park. Contact the visitor center in Bettles with further questions at 907-692-5494.
Subsistence Hunting
When this vast park area was created in 1980, Congress pro-tected the traditional subsistence rights of local rural residents through the Alaska National Interest Land Conservation Act (ANILCA). Subsistence use is defined as: Customary and tradi-tional uses by rural Alaska residents of wild, renewable resources for direct personal or family consumption as food, shelter, fuel, clothing, tools or transportation; for the making and selling of handicraft articles out of non-edible by-products of fish and wildlife resources taken for personal or family consumption; for barter, or sharing for personal or family consumption; and for customary trade.

Today, as in the past, many Alaskans live off the land, relying on fish, wildlife and other wild resources. Alaska's natural abun-dance forms the backbone of life and economy for many people in the state, and indigenous people in Alaska have used these subsistence resources for food, shelter, clothing, transportation, handicrafts and trade for thousands of years. Subsistence, and all it entails, is critical to sustaining the physical and spiritual culture of Alaska Native peoples and to making life on the land possible for many of Alaska's rural residents.

Ten villages in and around the park and preserve have the right to subsistence hunt, fish and trap within the park. Please respect and do not disturb subsistence activities and sites.
News about Hunting in Gates of the Arctic National Preserve
Last updated: July 29, 2022