Back Country Communications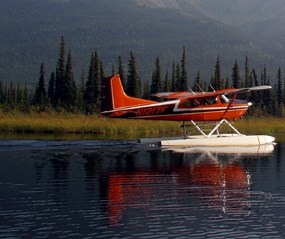 Because the Brooks Range is remote and isolated it is imperative that each back country party carry some type of emergency signal device in this remote region. In the event of an emergency, each person in each party must know how to use the signaling device. Often, it is a good idea to carry more than one type. Regardless of the communication device or devices you carry, self rescue is the first line of defense in the event of an emergency. Good planning, self reliance, and common sense is the first component of wilderness safety.
Types of Emergency Communication Devices and their usefulness in the Gates of the Arctic National Park and Preserve
Because of the remoteness of the Brooks Range, technological communication devices are often not the most effective means of communication.
Signal Mirrors are the least technologically advanced and have been the most useful over the years. Used with ground markings (rocks, tarps, clothing, etc. spelling HELP or SOS), they will most likely been seen by pilots flying through the area.
Flares are not always visible to pilots flying overhead during 24-hours of sunlight or in heavy overcast skies.
Cell phones do not work in the Park and Preserve.
Personal Locator Beacons (PLBs) are dependent on satellites. When deployed they activate a Search Response and should only be used in legitimate EMERGENCIES. One disadvantage of PLBs is they provide no means of communicating what the exact emergency is (broken leg, hypothermia, bear-mauling, etc.).
An air-to-ground/ VHF radio enables communication with a pilot in your area. Some air-taxi services provide these to their clients to allow them to speak with their pilot on the day of pick-up or in an EMERGENCY situation. These are not intended for casual conversation with pilots flying through the area. They require you to know the pilot's frequency and really only work effectively when the pilot is flying within close proximity.
Satellite phones work in some areas of the park and preserve. Sometimes they require hiking up to a higher elevation and / or multiple tries before a satellite is in range.
Before you leave, it is a good idea to complete a voluntary back country registration form which lists your communication devices. We also recommend that you talk with your air-taxi service about how best to contact them in case of emergency. They are more likely to be flying in your area (dropping off/picking up you and other parties) than our park pilot who is responsible for covering the entire 8.4 million acres of park and preserve.


Last updated: December 22, 2015