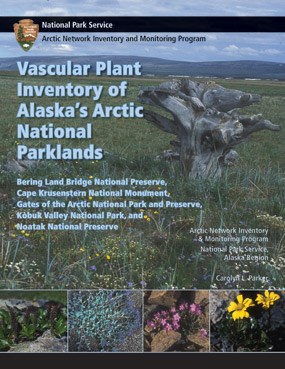 This report summarizes the inventory of vascular plants of the five park units comprising the Arctic Network (ARCN) of the National Park Service, Alaska Region, undertaken from 2001 to 2003. This study was part of a cooperative effort between the University of Alaska Museum of the North Herbarium (ALA) and the Inventory and Monitoring Program (I&M) of the National Park Service in Alaska. The primary objective was to produce a baseline species list for each park unit based on voucher specimens. Additional objectives were (1) to identify places and habitats that support the region's rare or uncommon flora and (2) offer recommendations for future inventory work.
Our initial effort was to compile lists of the vascular plants previously documented in earlier inventories and to identify areas and habitats in each park unit that remained under-surveyed. In addition, "expected species" lists were generated by the Alaska Natural Heritage Program (AKNHP) based on known plant records from areas adjacent to each park unit. The selection of I&M inventory sites was made primarily by taking into account the information gained from both these earlier surveys and the lists of expected, but previously undocumented, species. Logistical concerns were also a strong factor in determining sites, because each park unit is remote and roadless and collectively they cover approximately 19 million acres.
Once in the field, plant samples were gathered, pressed, and dried in standard plant presses. Location, habitat, and tentative field identifications were recorded for each plant. At the end of each field season, all specimens were returned to the University of Alaska Museum of the North Herbarium for final identification, processing, electronic database entry, and permanent curated storage.
A total of 4,567 plant specimens were collected from the ARCN parklands during our three seasons of fieldwork. The currently documented species for each park unit and the number of species new as a result of this inventory are: Bering Land Bridge National Preserve (BELA) 485 species (46 new); Cape Krusenstern National Monument (CAKR) 380 species (343 new); Gates of the Arctic National Park and Preserve (GAAR) 556 species (173 new); Kobuk Valley National Preserve (KOVA) 393 species (127 new); and Noatak National Preserve (NOAT) 431 species (244 new). A total of 706 species, representing 68 families, are documented for the combined ARCN parklands.
A total of 54 species ranked rare to critically imperiled (S3–S1) in Alaska by the AKNHP are now documented for the ARCN parklands. As a result of this inventory, 20 of these rare species were newly documented for ARCN and 50 new occurrence (element) records are documented for individual park units. In addition, most of the 54 rare species were documented from new localities within ARCN. Draba pauciflora (in GAAR) and Festuca edlundiae (in GAAR) are new to Alaska. Potentilla fragiformis (in CAKR) is newly recognized for North America. A second population of Saussurea triangulata (in KOVA), recently new to North America, was located. X_Dupoa labradorica (in both CAKR and BELA), a generic hybrid grass not currently ranked by AKNHP, is also new to Alaska.
In addition, we documented moderate (100–250 km) or major (>250 km) range extensions for 43 species, including 13 plants ranked as rare to critically imperiled (S3–S1) for Alaska. The majority of these range extensions are to the north and northwest of the species' previously known distribution.
This inventory has contributed significantly to our baseline knowledge of the distribution and richness of the vascular flora in the ARCN region. It also offers a strong foundation for future monitoring activities and recommendations for future inventory efforts.
For the complete report (4698 KB) click here.