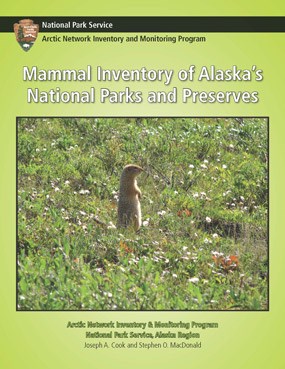 This report summarizes the inventory of mammals of the five park units comprising the Arctic Network (ARCN) of the National Park Service, Alaska Region, between 2000 and 2003. This study was part of a cooperative effort of the Beringian Coevolution Project at the Museum of Southwestern Biology, University of New Mexico, and the ARCN Inventory and Monitoring Program of the National Park Service, Alaska division.
We begin documenting the approximately 39 species of mammals that live in ARCN, with a primary focus on small mammals (i.e., shrews, voles, lemmings, weasels, porcupine, squirrels, and hares). This survey resulted in more than 3,000 primary specimens comprising 23 species.
Small mammal abundance varied considerably between years and across regions. From all the localities sampled in ARCN, two shrew and three vole species were the most frequently captured species, comprising more than 83% of all specimens collected in four field seasons.
This study confirms the importance of ongoing, multiyear efforts to fully document the region's small mammal fauna. Such persistence has paid a large dividend in ARCN with the discovery of five new species in Gates of the Arctic National Park and Preserve, five in Kobuk Valley National Park, three in Cape Krusenstern National Monument, and two in Bering Land Bridge National Preserve. This inventory also extended the distributions of several other species.
These findings, when combined with specimen information gathered from a review of holdings at UAM and other major collections, bring the total number of documented small mammal species to 14 of 16 probable species (87%) in BELA, 13 of 16 (81%) in CAKR, 22 of 22 (100%) in GAAR, 15 of 19 (79%) in KOVA, and 15 of 16 (94%) in NOAT.
The products of this inventory include a large collection of well-prepared, welldocumented, and diverse preparations of mammal specimens and associated materials (tissues, parasites, fecal samples, digestive tracts) for taxonomic, zoogeographic, ecological, genetic, parasitological, epidemiological, and other research and management purposes.
For complete report (7522 KB) click here.