Stampede to Kuyukuk Gold Country Pg. 3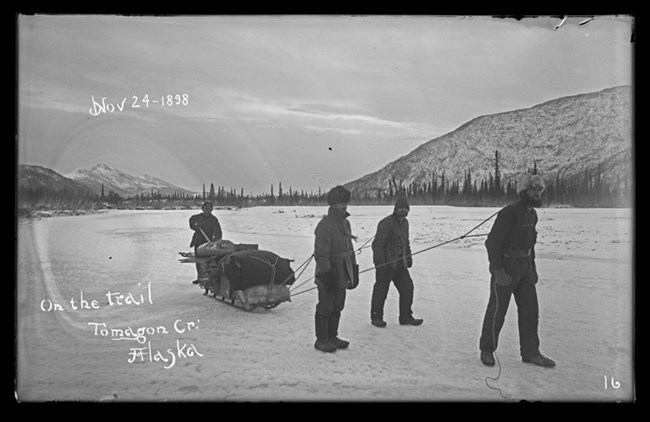 The Search for Gold
Once the snow began to fall and the rivers and creeks froze solid, the Galesburg group elected men to go on extended prospecting trips with dog sleds or by pulling heavy sleds by hand. Prospecting usually meant using a metal pan to test stream gravels for "colors"-gold in the form of flakes, dust, or small nuggets. Once gold was located the real work began. Because gold is a heavy mineral, water and soil erosion allows it to work its way downward through lighter sediments like sand and gravel until it rests just above bedrock. In order to reach this gold-bearing level or "paystreak," the miners must dig a vertical shaft through permafrost to the bedrock and then a horizontal shaft through the richest gravel. This technique is known as drift mining and it was both exhausting and dangerous.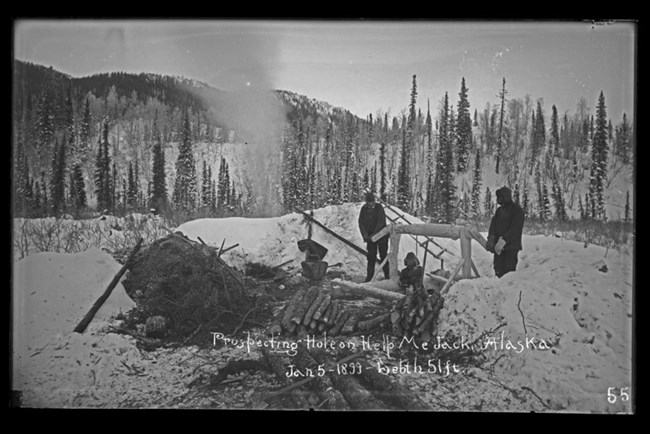 In order to dig through permafrost ground, Wyman and his comrades built a large fire in the shaft and kept it burning all night until about a foot of gravel had been thawed. Then they would shovel out the gravel (called "muck") for sluicing and build another fire to thaw a few more feet. With a hand-operated winch at the mouth of the tunnel and a man underground, the gravel came to the surface bucket-by-bucket. By this method they could eventually sink a shaft fifty feet deep or more. However, accidents were common and freezing temperatures made every operation more challenging. On December 20, Wyman was trying to celebrate his birthday as his team broke camp and headed back to their cabins, but his toes began to freeze, forcing the whole group to stop and build a fire to thaw them. Back on the trail one of the men fell through the ice, and again they stopped to build a fire. Wyman explained that at their cabin they learned the temperature had been fifty-six below, noting "had we known it was so cold, we certainly would have frozen."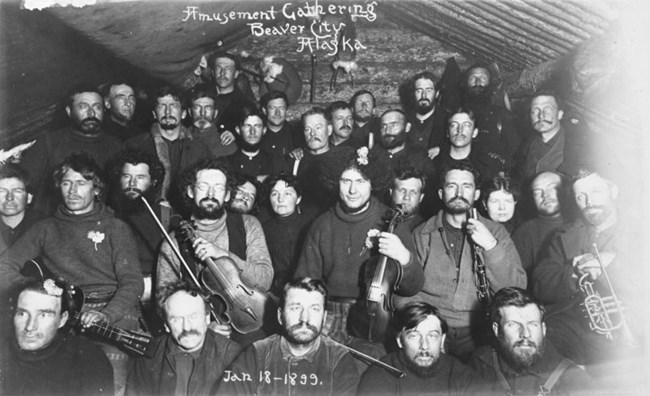 'Out with the Ice'
By Christmas Day the Illinois camp, which had become known as West Beaver, was celebrating with a dinner of soup, spaghetti, potatoes and gravy, bread, bacon, canned pineapples and apricots, and pie and cake with hot cocoa to drink. That night some of their neighbors from Beaver City came over for an evening of music, and they sang for hours. The next day, they held a shooting match-each man took three shots each at a target 125 yard away. Wyman won third place. Despite the festivities, the morale of the miners was sinking. No one had yet made a strike in the entire Koyukuk drainage, and most of them were so discouraged that they no longer believed there was any gold to be found in Alaska. Talk around the camp centered mainly on what to do next and how to get out of the country. Some suggested trips upriver to Dawson or other more promising areas, but most were just waiting to "go out with the ice" in the spring.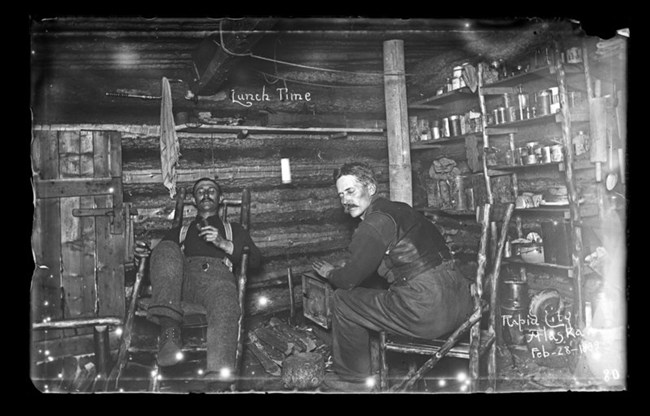 Although Wyman and others continued to go out on hunting expeditions and occasionally brought home fresh caribou meat, the general health of the men was fragile. Stomach ailments and nutritional deficiencies slowed them down, and the frigid darkness eroded their will to prospect for gold. Most of the men in the camps had given up and occupied their days and evenings as best they could, waiting for the rivers to thaw so they could make their way out of that lonely, desolate land. Even the appearance of the Aurora Borealis failed to lift their spirits. Wyman continued taking photographs, and he was delighted to receive three letters from his family when a miner traveled south to the Bergman trading post near the Arctic Circle and returned with the post. Soon Wyman and his friend Aldrich traveled downriver to where the Illinois was frozen in the Koyukuk River ice. Farther south they met other miners who were equally discouraged and restless.
Last updated: April 14, 2015