Gordon Bettles: Koyukuk Pioneer

My father was in practically every stampede in Alaska and he walked to most of them, a pack on his back and a rifle in his hand.
—Mr. Bettles' daughter Marguerite Bettles Golder
It is hard to imagine telling the story of Koyukuk gold without mentioning the energetic and good humored Gordon C. Bettles—fur trader, shopkeeper, prospector, newspaperman, and friend to the down-on-his-luck placer miner. In 1888, Bettles was twenty-seven years old and eager to make his fortune. He had been mining for silver in Montana, but he abandoned his claims when he heard about a gold discovery on the Fortymile River in what was then Canada's Northwest Territory. Although a decade would pass before the great Klondike gold rush, Bettles joined a group of sixty men who scaled Chilkoot Pass and risked life and limb to travel the upper stretches of the Yukon River in rough boats. Before they found gold at the mouth of the Fortymile, twenty of the group had given up and returned home. But not Gordon Bettles!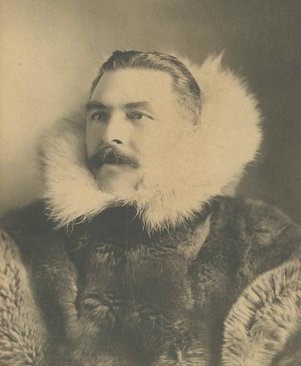 Pioneering shopkeeper
For several months he traveled through Fortymile country using a portable sluice box called a "rocker" to wash $50 per day from streambed gravel. However, as soon as he caught wind of prospects on the Kuskokwim River, he and his partner left in search of gold and adventure. After a long winter and no signs of gold, Bettles returned to the Yukon River and in partnership with the fur trader Al Mayo he started a trading station near the confluence of the Tanana River. This was the beginning of his career as a shopkeeper and entrepreneur in some of Alaska's most remote gold fields.
By 1890 a group of miners discovered gold on Koyukuk tributaries north of the Arctic Circle, and Bettles responded by ordering 20 tons of supplies and forming G.C. Bettles & Co. "From a pickaxe to a candle" was the company's motto in newspaper ads. Four years later he opened a store, or "beanshop" as the miners called them, at a place along the Koyukuk he called Arctic Village. Business was slow in the early years because only a handful of men were willing to brave harsh winters and dig through frozen Koyukuk gravel bars to collect gold dust, flakes, and nuggets. In addition to running his store, Bettles owned the Yukon River steamboats the Cora and the Koyukuk and traded with Alaska Native trappers for the furs of marten, red and silver fox, beaver, and mink. Early in his career as a shopkeeper, Bettles earned a reputation for generosity because he freely offered miners a "grubstake" of food and supplies that they could pay back when they found their gold.
Frontier newspaperman
In 1892 Bettles married Sophie Kokrine, daughter of a Yukon River trader from Russia, and started a family. He also became a charter member of the Yukon Order of Pioneers, an organization formed to bring order and ethical conduct to the emerging gold camps. The Bettles name also spread throughout the region when he volunteered to help in the publication of the Yukon Press, the first newspaper in the Yukon River region. In the paper's first edition, he warned eager prospectors that a full season of back-breaking labor was needed on the Koyukuk before they might have a hope of seeing profit:
Miners coming to this section of the country from the outside world: I deem it necessary to advise them, owing to the difficulty of opening deep diggings, as it will at least take the greater portion of the first season before much, if any returns are realized, to come prepared to meet those obligations.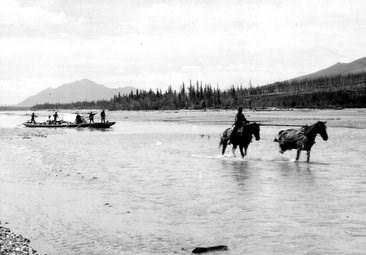 Gold rush stampede
In 1898, five years after Bettles first reported on the Koyukuk, the overflow from the famous Klondike Gold Rush sent two thousand gold-hungry prospectors to Koyukuk country where they believed they would find the next El Dorado. Wherever their steamboats stopped the miners built log cabin camps and started digging. Responding quickly to the new opportunity, Bettles established the outpost of Bergman and another store farther north he called Bettles. By spring 1899, the prospectors' gold fever had faded and only one hundred miners remained, but the Koyukuk mining district held on with additional gold discoveries in 1906 and 1909.
After the rush
Beginning in 1901 the tiny settlement of Bettles had a post office and continued to serve local miners, but by the 1930s most of the residents had moved on to Wiseman or, a decade later, to the new Navy airfield seven miles upriver (the town that grew around the airfield was also called Bettles). Today the tiny outposts established by Gordon Bettles are ghost towns or have disappeared entirely, but the larger story of gold mining in the region has become an important part of the history of the region in and around Gates of the Arctic National Park and Preserve.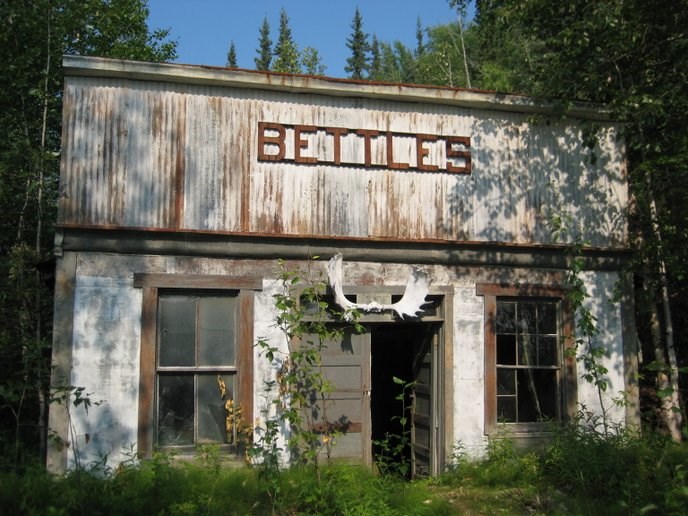 Last updated: April 14, 2015