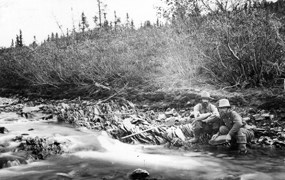 This article by H. Pringel was published in The Pathfinder (Valdez) in that magazine's April 1921 issue. It describes two decades of placer gold mining in the Koyukuk River drainage. Most of the boomtowns established in the heady days of 1898 and 1899 have disappeared, but Wiseman, Coldfoot, and the ghost town of Old Bettles still exist as reminders of the region's gold mining past.
The history of mining on the Koyukuk River apparently dates back no further than the year 1898. In this year about seventy small steamers made their way up the river to the sites of the present towns of Bergman, Bettles and other points along the river. These were loaded with prospectors, who in most instances, owned their boats. Most of these prospectors were from the eastern States with a scattering of old timers, and to these latter is undoubtedly due the fact that the fleet succeeded in reaching six hundred miles or more up the river.
Many of the Eastern men, unused to the hardships incident to a trip of this character, through a practically unknown region, and discouraged by the desolate appearance of the country, at once abandoned the enterprise and returned to the States before winter should overtake them. Many of them abandoned their boats, taking passage down the stream with others, while many left their boats in charge of friends who, more courageous, remained behind to try their luck in the unknown country into which they had penetrated. As a result, here and there along the river banks may be seen the bleaching bones of little steamers which once formed a part of the gallant fleet which bore the first stampeders to the Koyukuk.