Alatna River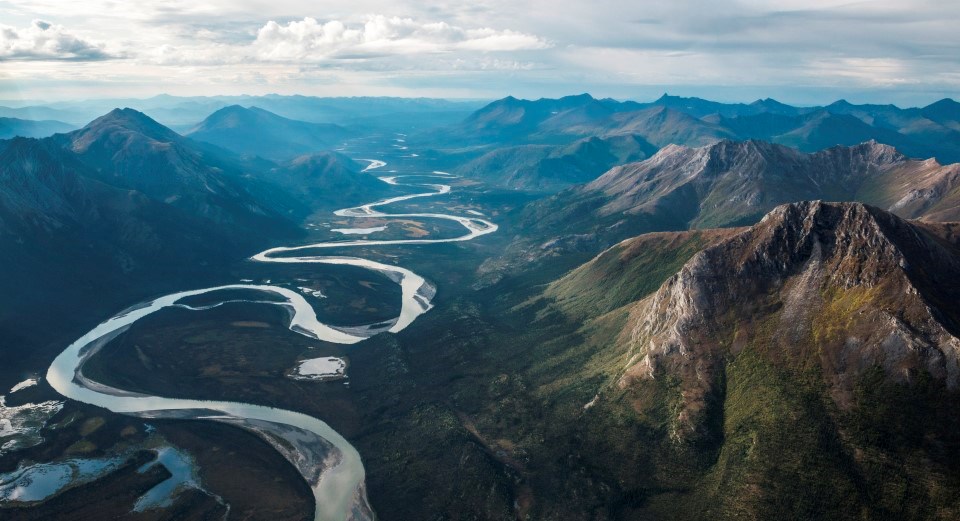 The Alatna River flows from the Endicott Mountains 145 miles southeast to the Koyukuk River.
Dedicated a wild river on December 2, 1980, the Alatna River flows from lakes high on the Arctic Divide and drains the central Brooks Range. Wildlife, spectacular scenery, and interesting geologic features abound along the river corridor. The first twenty-five miles from the headwater lakes are rocky and can be very shallow and during low water, a portage of several miles from the Summit Lake may be required and lining boats may be necessary.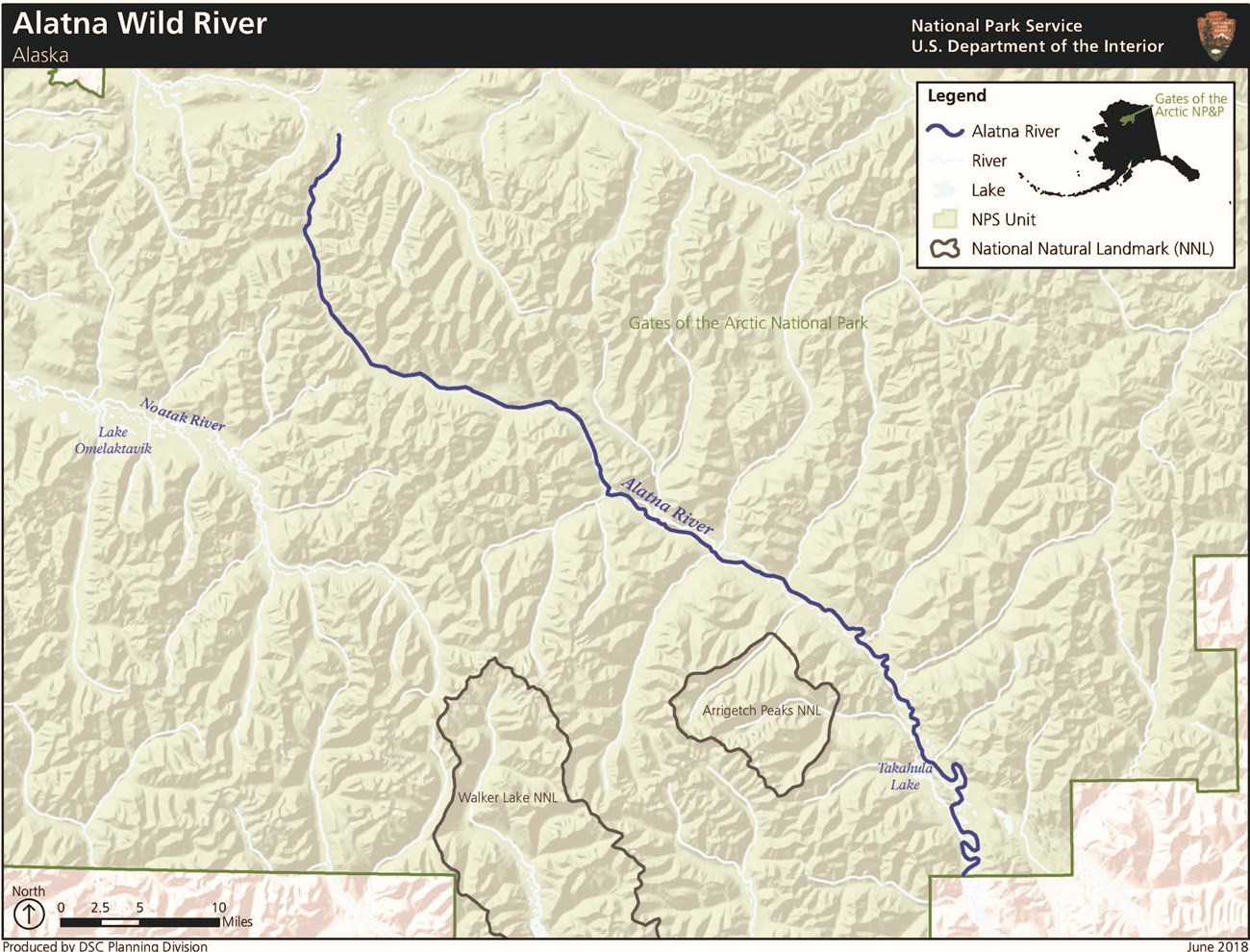 Approximate Length
83 mi / 133.5 km inside Gates of the Arctic National Park & Preserve
Scenic Quality
The Alatna River corridor has stunning scenery that includes views of the Arrigetch Peaks, a granitic disturbance that is a natural national landmark.
More than half of the river provides views of magnificently adjoined snowcapped mountains. Contrasting colors and types of vegetation add diversity to the Alatna's scenery. The vegetation itself, from moist tundra on the valley floor to alpine tundra on the mountain slopes, is contrasted by steep rocky bluffs along the river's edges. Sites immediately off the river offer views of the Arrigetch Peaks, which are sometimes reflected upon the surface of alpine lakes.
Mountains flanking the Alatna provide significant geological diversity, including limestone, shale, quartzite, slate, and schist formations. Smooth granite walls rise nearly 3,000 feet along the south side of the Alatna on the rugged, ax-blade-like Arrigetch peaks, which have been designated a National Natural Landmark. These peaks are part of the granitic disturbance that separates the Alatna and Noatak River drainages.
Recreational Opportunities
The Alatna River is an outstanding wilderness float and provides access to the excellent hiking and climbing found on and around the Arrigetch Peaks.
Access to the Alatna is by floatplane (e.g., at Circle Lake, Summit Lake, Takahula Lake) or bush plane via air services from the town of Bettles. The first 40 miles of the Alatna exhibit fast and rapid currents, but slow as the river widens, providing a relatively safe and calm rafting experience. Upstream of Ram Creek, users can experience Class III rapids. Adjacent valleys and 6,000- to 7,000-foot mountains along the river's upper portion provide the user with excellent hiking. The Alatna River is also the primary means of access for mountain climbers interested in visiting the Arrigetch Peaks, which are famous for the rugged, challenging rock climbing and mountaineering experience they offer and attract climbers from around the world.
Geologic Features
Rugged mountains of central Brooks Range, including Arrigetch Peaks
Natural Resources
Easily observed, variety of large and small mammals, migration route for arctic caribou herd
Cultural Resources
The Alatna has a rich cultural history. This valley is traditional hunting territory for the Koyukon Athabaskans and the Nunamiut Eskimos trace their origins to the upper regions. Dozens of historic and prehistoric sites spanning 4000 years have been identified.


Last updated: May 31, 2022