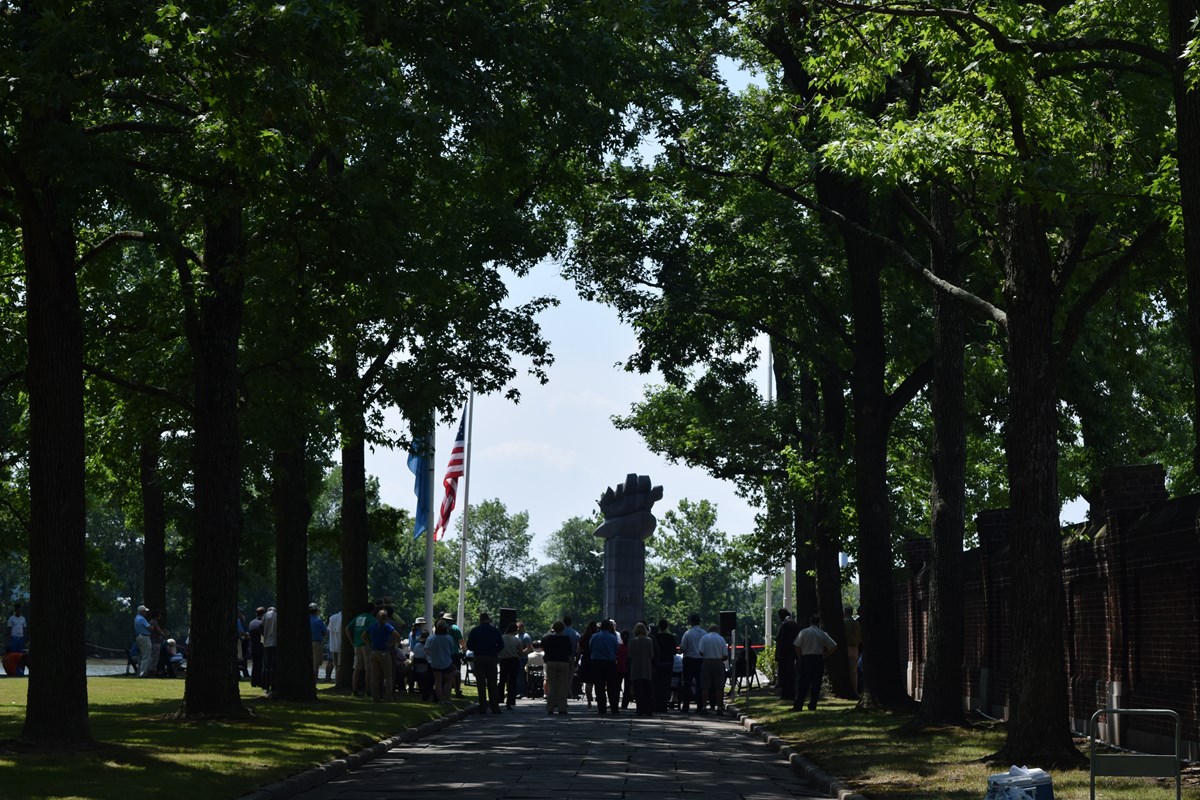 Site Description
It was here, along the banks of the Christina River over 375 years ago, that the first Swedish and Finnish American settlers aboard the Kalmar Nyckel and the Fogel Grip landed and settled the first American Swedish colony, New Sweden. Fort Christina was quickly built and named for the Queen of Sweden at the time. The wharf of rocks that was the site of the first landing remains, however, some believe archeological digs at the site could uncover much more.
Hours of Operation (Closed)
Memorial Day (May 27th) through Labor Day (September 5th):
Check back in the spring for updated hours.

Off season:
For large groups that wishing to visit Fort Christina outside of summer season, please contact the park to make an appointment:
Fees & Passes
There is
no fee to visit Fort Christina
, but Old Swedes Church and the Kalamar Nyckel Foundation do charge a small fee. Together, these three sites beautifully illustrate the founding of the New Sweden colony. If you are interested in visiting all three sites you can purchase a Christina Cultural Trail Pass. The passes can be purchased at Old Swedes Church, or the Kalmar Nyckel Foundation. If you only want to visit Fort Christina there is no fee for tours.
3-for-1 Christina Cultural Trail Pass
Passes are $8 for a single pass, or $25 for a family of four.
Planning Your Visit
Fort Christina currently has no restrooms, port-a-potties, or running water. Restrooms at the Copeland Maritime Center may be used, pending approval from the Kalmar Nyckel Foundation.

The flagstone is uneven and may cause problems for wheelchairs and strollers. Please watch where you step while visiting to avoid tripping and falling.

Seating is limited inside the park, please contact the Kalmar Nyckel Foundation for accommodations.

Electricity is limited in the park, please contact the Kalmar Nyckel Foundation for accommodations.

Any material, including hammocks, may not be hung from or attached to trees, walls, or any other original feature within Fort Christina.

There is no boat ramp available at Fort Christina to access the river.

Fires and open flames are prohibited.
Location
1110 East 7th Street, Wilmington, DE 19801
Contact Information
This site is interpreted by our partners at the Kalmar Nyckel Foundation, and the Old Swedes Foundation. For questions regarding tours, special programs, or hours please visit their website or contact them at:

Kalmar Nyckel Foundation
Phone: (302) 429-7447

Old Swedes Foundation
Phone: (302) 652-5629