Fort Vancouver Lecture Series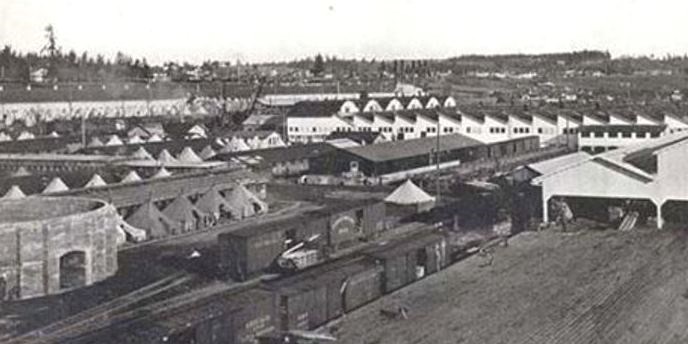 IMAGININGS OF FLIGHT: Past, Present, & Future of Aviation
The National Park Service and the Oregon L5 Society (a chapter of the National Space Society) invite you to a free, public lecture series at the Tex Rankin Theater inside Pearson Air Museum, 1115 E 5th Street, Vancouver WA 98661
Each lecture will begin at 6:30 pm. The topics range from early aviation in Vancouver to meteorites and the future of space exploration. For more information call the Pearson Air Museum at (360) 816-6232 or the Visitor Center at (360) 816-6230.
Featured Speakers:
February 5, 2015
The Spruce Production Division's Vancouver Cut Up Mill and the Contribution to the Air War in World War I
Presented by: Dr. Robert J. Cromwell, National Park Service
During the summer of 1917, while America was preparing to enter World War I, the U.S. Army's Spruce Production Division was established as an effort to provide lumber to build military aircraft. By 1918, the Division sent 30,000 Army soldiers into the forests of Washington and Oregon to begin logging. In Vancouver, Washington, on the site of Fort Vancouver National Historic Site, a massive Spruce Mill processed the raw material. NPS Archaeologist, Robert Cromwell discusses this fascinating moment in
February 12, 2015
The Meteorite Petting Zoo
Presented by: Richard Pugh, Cascadia Meteorite Laboratory, Portland State University
The Cascade Meteorite Laboratory in the Department of Geology at Portland State University hosts a large collection of meteorites recovered from the Pacific Northwest. Come learn about the fascinating scientific research being conducted on meteorites, and what they can tell us about the origin of the Earth and other planets, our solar system, and even the molecules that are precursors to life. Mr. Pugh will bring meteorites for viewing, and encourages visitors to bring suspected meteorites for verification purposes.
February 19, 2015
Mining the Moon with a Lunar Elevator
Presented by: Charles Radley
As mineral resources on the earth become rarer and more difficult to reach, serious research is being conducted on establishing mining operations on the moon and other near earth celestial bodies. Join us to hear aerospace system engineer, Mr. Charles Radley, present an overview of utilizing a lunar space elevator to retrieve mined materials from the Moon and transport them directly to the Earth.
February 26,2012
NA337, the Commonwealth Air Crews and the Evolution of the Handley Page Halifax Bomber
Presented by: Dr. Diana DeLuca
Most aviation historians are familiar with the RAF's Bomber Command operations over German occupied Europe in World War II, but most associate these raids with the now famous AVRO Lancaster. A less heralded, but equally important four-engine bomber, was the Handley Page Halifax. Dr. DeLuca will explain the role of the "Halibag" in these bombing missions, its favorable use with Commonwealth crews, and the recovery and restoration of NA337, a Halifax currently on exhibit at the National Air Force Museum of Canada.
March 5, 2015
Back to the Moon with the International Lunar Rover Mission
Presented by: Dan Dolan
Dan Dolan is a local businessman with a goal to put mankind back on the Moon, and living on a Moon base during his own lifetime. His groundbreaking first project is to send a multitude of robots, probes, and rovers there. The physics and orbital mechanics of a trip to the Moon are simple compared to the international partnership that his new company, Moon Base Builders, is attempting to organize in order to revolutionize lunar travel. Join us as Mr. Dolan shares his vision for the near future exploration of the Moon.
March 12, 2015
Designs on Personal Space Exploration
Presented by: Dr. Cameron Smith
Portland State University Dr. Cameron M. Smith of Portland State University's Department of Anthropology began his career excavating million-year-old stone tools in Africa and today combines his archaeological interests with a consideration of human evolution and space colonization. He is applying his interests in his collaboration with the scientists at Icarus Interstellar's Project Hyperion, a reference study for an interstellar craft capable of voyaging to a distant star by the end of this century. Dr. Smith is currently building a pressure suit and balloon for exploration of the lower stratosphere and has recently become a member of Copenhagen Suborbitals' attempt to reach space entirely privately, with DIY methods.
March 19, 2015
The Life and Aviation Adventures of Lincoln Beachey, 1905-1912
Presented by: Matt Simek
Lincoln Beachey was a famous early aviator with incredible roots at Vancouver's Pearson Field. Beachey flew the dirigible "The Gelatine" from Portland to Vancouver Barracks in 1905 being the first aviator to cross the Columbia River. He set many notable aviation firsts all over the west coast. Join us as Mr. Matt Simek presents the many notable aviation feats of Lincoln Beachey.
Last updated: February 21, 2015