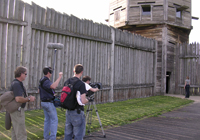 Fort Vancouver's beautiful meadows, vistas, waterfront, stockade, and buildings are nationally recognizable and frequently featured in commercial film projects, including still photography.
Whether it is the McLoughlin House Unit in Oregon City, Oregon, or the fort site in Vancouver, Washington, the park offers many unique settings for film and photography.
The following information, in question-and-answer format, outlines the background and process for obtaining a permit to film within the park boundaries.
Does filming require a permit at Fort Vancouver NHS? What exactly does the term commercial filming include?
All commercial filming requires a permit. Commercial filming is defined as digital or film recording of a visual image or sound recording by a person, business, or other entity for a market audience, such as for a documentary, television or feature film, advertisement, or similar project. It does not include news coverage or visitor use.
I'm interested in commercial still photography. When does this require a permit?
Still photography activities require a permit only when:
the activity takes place at location(s) where or when members of the public are generally not allowed; or
the activity uses model(s), sets(s), or prop(s) that are not a part of the location's natural or cultural resources or administrative facilities; or
the park would incur additional administrative costs to monitor the activity;
The park needs to provide management and oversight to:

avoid impairment or incompatible use of the resources and values of the park, or
limit resource damage, or
minimize health or safety risks to the visiting public.
What about news coverage? Do we need a permit if we are interested in covering a news story?
News coverage does not require a permit, for either filming or still photography, but is subject to time, place, and manner restrictions, if warranted, to maintain order and ensure the safety of the public and the media, and protect natural and cultural resources.
Are there any onsite resource concerns that may affect my application?
Congress in P.L. 106-206 expressed the importance of resource protection and provided that the permit request should be denied if:
there is the likelihood that resource damage would occur that cannot be mitigated or restored under the terms and conditions of a permit;
there is the likelihood of unreasonable disruption of or conflict with the public's use and enjoyment of the site;
there is the likelihood that the activity poses health or safety risks to the public;
there is the likelihood that the activity would result in the impairment of park resources or values;
the requested activity will violate any other applicable Federal, State, or local law or regulation.
Is it possible to film inside the reconstructed fort?
Yes, it is possible to film within the fort. Depending on the size and the scope of the project, it usually is necessary to schedule this filming either before or after the hours that the site is open to the public, so that the visitor experience is not adversely affected by the filming.
Are there any special conditions for filming within the reconstructed buildings at Fort Vancouver? How about for the historic buildings at the park's McLoughlin House Unit in Oregon City, Oregon?
For filming inside the reconstructed buildings within the reconstructed stockade, or inside the historic buildings at the McLoughlin House Unit, there are several special concerns that a prospective film project needs to consider. As many of the furnishings in these buildings are historic and often very fragile and sensitive to light and changes in temperature, proposals for filming are reviewed by the Park Curator on a case by case basis. In some instances, a proposal may require a significant amount of the Curator's time moving objects, and these costs will be included in the permit costs.
How does someone obtain a Special Use Permit for a film or photography project?
A Special Use Permit (SUP) will be issued only after the park determines that the proposed project will not impair National Park Service values and resources. Listed below are a few things you will need to know about planning a film project in the park.
Scheduling: The Chief Ranger's Office maintains a calendar of film/photography projects which are scheduled on a first-come, first-served basis. The National Park Service does not issue permits for areas with high public visitation or on weekends and holidays.

Consultation: The first step toward obtaining a special use permit is contacting the Chief Ranger's Office for a consultation. Please call to discuss your project, date availability and Natioinal Park Service regulations.

Permit Application: The second step toward obtaining a filming permit is to complete an application form (see link below). The form requires that you include either a tax i.d. number or a social security number. This number is required by 31 USC 7701 (c) from a person or organization doing business with the federal government. This number will be used by the federal government to collect and report delinquent debt.
Filming Application Short Form (66 KB .pdf file)

Filming Application Long Form (84 KB .pdf file)

Costs: The National Park Service is required by law to recover the cost of providing goods, resources or services to support or facilitate special park uses. These costs include administrative costs, management costs, and location fees.
Please note that all commercial filming permits and still photography permits are subject to cost recovery and a location fee. No waivers are allowed.
Administrative Cost: The administrative cost for a Special Use Permit is $100, made payable to the National Park Service. This amount covers the administrative cost of processing your request. This fee is due at the time the application form is submitted. This amount is non-refundable.
Management Cost: Projects that require NPS personnel for activities such as resource protection and oversight or entry in to closed areas will also incur management costs, including staffing costs at a rate of $75/hour per employee.
Location Fee: The location fee is calculated per day and is based on the following national schedule. It is determined by the type of activity (commercial filming versus still photography) and the number of people on park lands associated with the permitted activity. Please note that there is no deviation from the schedule.In order to meet the needs of commercial videographers, cinematographers, or sound recording crews of up to two people with only minimal equipment (e.g., a camera and a tripod) working in areas open to the public are required to obtain a commercial filming permit and are subject to appropriate permit terms and conditions and cost recovery charges but are not subject to location fees.
National Park Service Location Fee Schedule
Motion Pictures/Videos

Commercial Still Photography

1 - 2 people, camera and tripod only

$0/day

1 - 10 people

$150/day

1 - 10 people

$50/day

11 - 30 people

$250/day

11 - 30 people

$150/day

31 - 49 people

$500/day

Over 30 people

$250/day

Over 50 people

$750/day
Certificate of Insurance: The National Park Service requires a Certificate of Insurance, listing the United States as "additionally insured" for the date(s) of the event or activity. This liability coverage includes operations, personal injury, product liability, property damage and loss, and other necessary categories to be listed in the permit (range: $1,000,000 to $5,000,000).

Security Deposit: For high impact projects, permittees must post a bond payment (a cashier's check) made payable to the National Park Service. The bond amount is based upon projected number of attendees and level and scope of event activities. The deposit is refundable unless it must be used (in whole or part) for site cleanup, trash removal, or property damage.
For more information, please call 360-816-6241 or email: Special Park Use
I like Fort Vancouver NHS but I have other filming needs. Whom do we contact for permission to film in other, non-NPS areas of the Vancouver National Historic Reserve, such as Officers Row, the Howard House, West Barracks? What about other locations in the City of Vancouver or Clark County?
The contact for filming on non-NPS managed lands, including Officers Row, West Barracks, and other locations in the City of Vancouver and Clark County is the local Convention & Visitors Bureau. They can be reached at 360.750.1553 or via e-mail by clicking here.