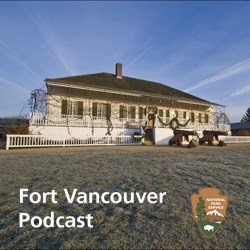 This new podcast will take you "beyond the velvet rope" at Fort Vancouver National Historic Site and provide a personal, behind the scenes look at the Pacific Northwest's premiere archaeological and historic site.
Conversations with staff members, visitors, park partners and many of the site's 400 volunteers will take you on an intimate journey and help show why this urban national park – with its historic buildings, expansive recreational opportunities, reconstructed 1840's fur trade stockade, dozens of interpretive programs and special events, and a collection of over 2 million artifacts – is relevant today, drawing nearly 900,000 visitors a year.
From archaeologists analyzing latest finds to volunteer blacksmiths creating essential tools…from rangers crafting new programs and events to museum staff describing fascinating artifacts, this podcast will help you learn much about your national park and hopefully help you forge your own, personal connection to this very special and significant site.