Plants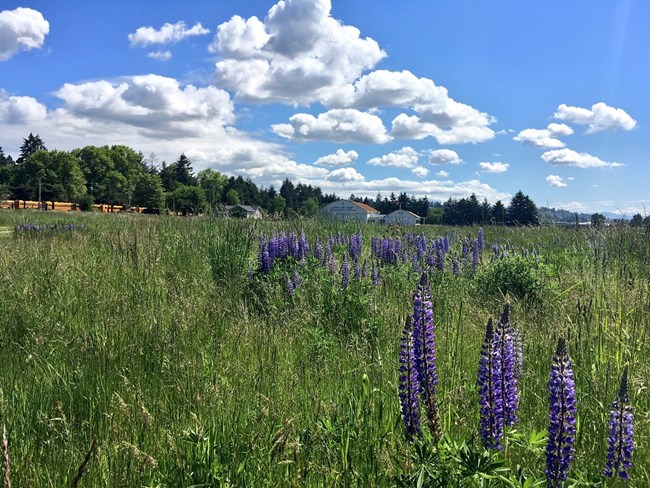 Vegetation is an important part of the Fort Vancouver landcape because of the prominent role agricultural and subsistence activities played in the fort's success and influence in the Pacific Northwest.
In the 19th century, the Hudson's Bay Company's Fort Vancouver was surrounded by cultivated fields, a large
garden
, and livestock pastures. Today, there are no known vegetative remnants or features introduced by the Hudson's Bay Company within the national park boundaries. Remnants of an interpretive orchard, planted in 1962, exist on the site of the historic garden, adjacent to a newer orchard. Many of the trees in the orchard you see at the park today share the same genetic makeup of the historic apple tree in the
City of Vancouver's Old Apple Tree Park
. The field area within the fort palisade is currently maintained as turf.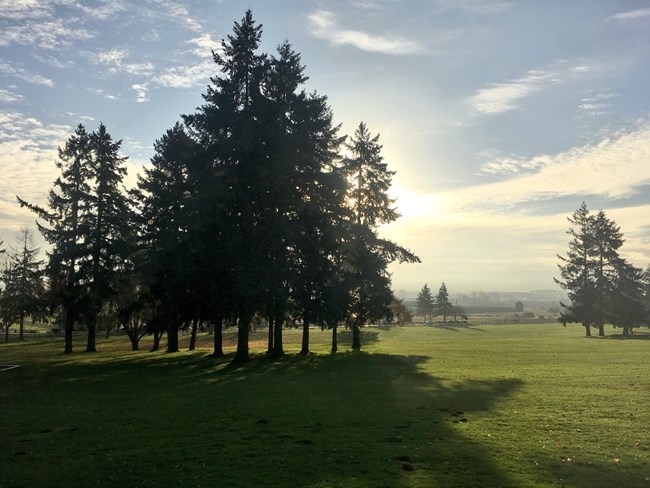 Historic Trees
The only documented vegetation existing from the Hudson's Bay Company period includes two Douglas fir (
Pseudotsuga menziesii
) trees at the east end of the Vancouver Barracks Parade Ground, and the apple tree in Old Apple Tree Park. Two large Oregon oak (
Quercus garryana
) trees on the Parade Ground may date from the 1850s.
To date, while no other vegetation dating from the historic period exists in the park today, the landscape character of some areas surrounding the palisade is still indicative of the vegetation associated with the historic period. For example, during the Hudson's Bay Company period, the undeveloped area north of Upper Mill Road consisted of Oregon oaks and Douglas fir trees scattered across a natural prairie. Today, Douglas fir and Oregon oak trees scattered across the manicured lawn of the Parade Ground retain the general character of the historic period.
Clumps of Oregon oaks that are spread across the Vancouver Barracks portion of the park (many of which are within the park's legislated boundary) were also common in this area during the Hudson's Bay Company and Vancouver Barracks periods as part of the oak savannah transition zone between the conifer forest and the plain. Preliminary research indicates other trees in the Vancouver Barracks portions of the park may have historic significance, for example, the large deciduous trees, including oaks, located along the southwest side of the park.
For a full list of plant species present at Fort Vancouver National Historic Site, check out the National Park Service's NPSpecies list
here
.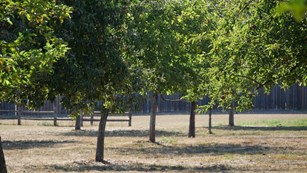 Requiem for the Old Apple Tree
Learn more about the Old Apple Tree, which died in 2020, and how it lives on at Fort Vancouver National Historic Site.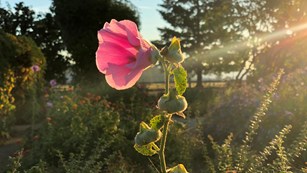 The Garden at Fort Vancouver
Spring and summer are great times to visit the Fort Vancouver Garden! Learn about the history of the garden and how to visit it here.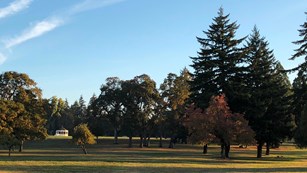 The Cultural Landscape
How have humans interacted with this place over time? Learn more in excerpts from our Cultural Landscape Report.


Last updated: April 9, 2021