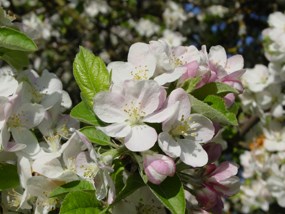 Vegetation is a critical component of the Fort Vancouver landscape because of the prominent role agricultural and subsistence activities played in the fort's success and influence in the Pacific Northwest.
The cultivated fields, garden, orchard, and livestock pastures were all significant landscape features during the historic period of the Hudson's Bay Company occupation of the site.
Today there are no known vegetative remnants or features introduced by the Hudson's Bay Company within the park boundary. Remnants of an interpretive orchard, planted in 1962, exist on the site of the historic garden, adjacent to a newer orchard of approximately 70 fruit trees, many sharing the same genetic makeup of the apple tree in Old Apple Tree Park.
There is also an interpretive Garden located northeast of the palisade on the site of what was historically a cultivated field. (To learn more about the Garden, click here.) The field area within the palisade is currently maintained as turf.