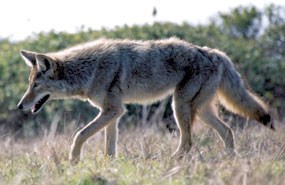 Today, Fort Vancouver is located in the heart of the community and surrounded by many commercial, industrial, residential, and aviation developments.
The widespread expansion of the activities that the Hudson's Bay Company started more than 180 years ago has left little room for native wildlife, but some species persist in this highly altered environment.
Habitat exists within the park for many species either observed or known to inhabit the Vancouver area. These species include 18 species of mammals, 82 species of birds, and 28 species of fish.
According to a national inventory by the U.S. Fish and Wildlife Service, the geographic area surrounding the park has suitable habitat for two species of reptiles, and one amphibian.
Given the urbanized nature of the habitat of the park, terrestrial habitat for wildlife is somewhat limited. The trees, meadows, orchard, garden, and waterfront areas each provide limited habitat for wildlife generally passing through the area of the park.