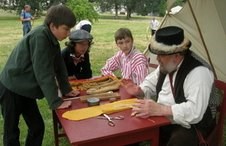 Brief History of The Young Engagé School at Fort Vancouver
:
Within the fur trade world of the 19th century, education--either at a school or through an apprenticeship—was crucial for advancement. Even at the frontier outpost of Fort Vancouver, education for your people was highly encouraged. At one time, it was recorded that 60 students were attending school at the fort, 40 of which were boys.
In the mornings girls and boys attended school together in the building known as the Owyhee Church, then separated in the afternoons. During the morning session, young men learned to read, to write the ornate copperplate script of the time, and studied subjects such as geography, botany, math, and music. Afterward, they worked in the fields, gardens, or tradeshops, while girls were instructed in handwork as would have been common at a Dame School. Young men learned skills on the job from tradesmen or engagé, the contracted employees of the company.