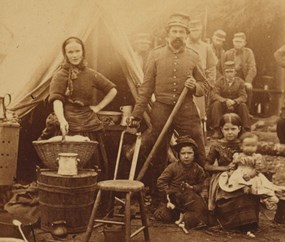 by Marci Lim
At the U.S. Army's Fort Vancouver (later renamed Vancouver Barracks), working-class women provided important support to the soldiers - both the enlisted men as well as the officers. Officers and their families hired women to serve as cooks, servants, nurses, and midwives.
Each company commander also hired laundresses to wash the enlisted men's clothing. Laundresses were the only women officially recognized by the Army. As employees of the Army, they received daily rations, fuel, medical services, transportation and housing.
In the early days of Vancouver Barracks, officers' wives sometimes served as laundresses to gain the privileges of official army recognition, but hired servants to do the actual work for them.
Most laundresses were married to enlisted men or non-commissioned officers. At times, soldier-husbands cared for the children to give their laundress-wives time to do the company washing.
Theodore Talbot, a soldier serving at Vancouver Barracks in the early 1850s, copied a laundry recipe in a letter: