Western Womanhood - Ethnic Diversity at Fort Vancouver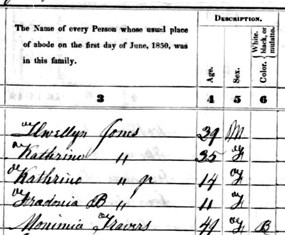 by Jodene Rudolf
The women forming the new Western Womanhood of Fort Vancouver during 1849-1900 were an ethnically diverse group consisting of Native American, European, African American and Métis (mixed-race) women.
During the Hudson Bay Company occupancy prior to 1849 Native American women dominated the landscape providing companionship, marriage, and children to the men of the fort. However, native women also made significant contributions to the economy of Fort Vancouver by making items for use and sale at the Company Store including processing salmon at the Salmon House. Until the closing of Kanaka Village in 1860, Native American and Métis (mixed race) women provided companionship to Army men while contributing to the economic success of the Fort as a whole.
The growing presence of white European women with their proper social mores at the Fort had an effect on the numbers of mixed-race relations and marriages. By the 1870s we begin to see a marked decrease in legal marriages between the men of the fort and native women. Native American women's power and authority at Fort Vancouver was not solely dependant on their unions with European men, however. One very notable exception was Sarah Winnemucca, a Paiute woman who was hired by the government to serve as translator, Indian guide, and teacher at Fort Vancouver.
Domestic workers, hired by upper class women, were ethnically diverse and included African American women. The arrival of the Buffalo Soldiers of Company B to Fort Vancouver in 1899 also brought African American women to the Fort. Sergeant Mark Stanfield, ranking non-commissioned officer of Company B, brought his wife of 15 years, Sallie, with him from Franklin Tennessee. After completing his military service, the Stanfields returned to Portland where they lived out their remaining years.
Last updated: February 28, 2015