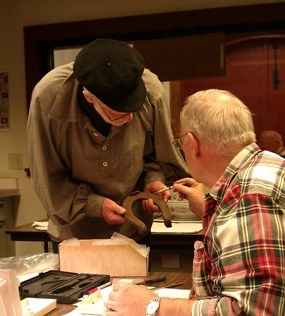 Fort Vancouver's Public Archaeology Program accepts volunteers in the fall, winter, and spring. Volunteers perform a variety of tasks, mainly conducted in the Fort's archaeology lab, located in the reconstructed Fur Store building.
Volunteer duties include cleaning, sorting, and analyzing artifacts recovered in the field, and data entry. Volunteers who perform 100 hours of archaeology lab work are eligible to volunteer for Fort Vancouver field work projects, including assisting with our annual Public Archaeology Field Schools.
To learn more about what our archaeology lab volunteers do, check out our Archaeology Volunteer Position Description (PDF, 45 KB).
The lab will open for volunteers October 27, 2014, and will remain open through Spring 2015. The lab is open to volunteers Mondays, Fridays, and Saturdays. To inquire about volunteer opportunities this fall, call (360) 816-6250.