French Plate with Rebus Design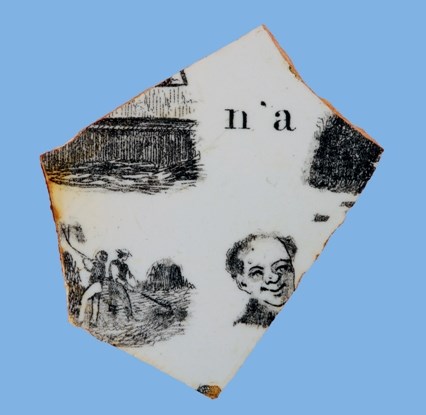 This ceramic sherd was archaeologically recovered from a privy associated with a sutler's store on the Vancouver Barracks post. The store was run by a civilian named Elijah Camp in the early 1850s, and was by all accounts a profitable enterprise until it mysteriously "blew up" one night in 1853. Ulysses S. Grant, then stationed here as a Captain in the Quartermaster Department, complained bitterly in letters about Camp disappearing and failing to repay Grant the money he had loaned him to set up the store.
The sutler was one of the first local competitors of the Hudson's Bay Company, a powerful British fur trading company that had increasingly turned to retail operations as profits from the fur trade decreased. The HBC had enjoyed a near-monopoly for several decades, but its influence was waning in the new American territory. This transition in goods and suppliers can be seen in the archaeological record, one example being English and Chinese ceramics giving way to those made in the United States and France.
The plate features a rebus, a puzzle composed of words and pictures that together form a phrase.
Extremely widespread in the mid-19th century both in print and on ceramics, rebuses were a common form of entertainment for the upper-class, particularly in France. They sometimes referred to contemporary political subjects. While researching this artifact, we contacted Will Shortz (famous editor of the New York Times crossword) who in turn led us to Franco Bosio, one of the foremost experts on these types of puzzles. According to Bosio, almost all the period illustrated magazines in France published rebuses, among them "L'Illustration" and "Le Charivari". In addition, rebus ceramics were popular for important lunches and wedding parties. There were manufacturers who produced the wares in Bordeaux, Choisy-l-Roi, Creil, Gien, Grigny, Montereau, Sarreguemines, and Wally; however, the designs were often applied in Paris.
This fragment, of a pattern dated 1844, has not been identified. Nor the puzzle solved. Maybe someday.
-Tessa Langford, Curator
Last updated: February 28, 2015