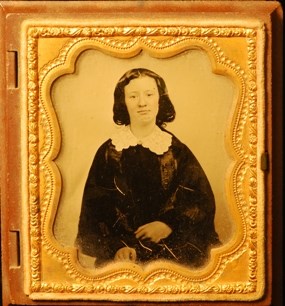 The Fort Vancouver museum collection contains a number of historic photographs. In the summer of 2010, a collection of daguerreotypes, ambrotypes, tintypes, and other photographs were shipped to the Northeast Document Conservation Center (NEDCC) in Andover, Massachusetts.
Included in this collection of images was the historic daguerreotype of Dr. John McLoughlin seen below. To conserve this photograph, NEDCC conservators first disassembled the dageurreotype "package," which consists of the daguerreotype itself, printed on a glass plate, a brass mat, cover glass, a brass preserver, and the leather covered case. Compressed air was then used to remove dust and debris from the surface of the image.
When the package was re-assembled, the cover glass was removed and replaced with borosilicate glass. Glass made in the nineteenth century is inherently unstable, and will inevitably deteriorate over time, making its replacement necessary.
Also included in this conservation project was the ambrotype image of Louisa McLoughlin Rae, Dr. McLoughlin's granddaughter. The ambrotype process creates a faint negative of an image on a glass plate. When the finished plate was placed in a case, it was backed with black material, which could be lacquer, cloth, paper or metal, to make the image appear positive. Over time, the black lacquer that backs some ambrotype images can flake, and this was the case for this image of Louisa.
NEDCC conservators resolved this problem by placing a piece of archival-quality, PAT-tested black paper behind the plate. This paper will help to preserve both the image and the remaining lacquer.