Costume Program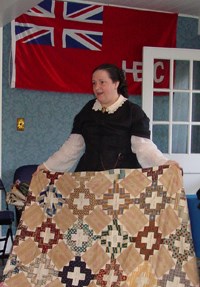 Fort Vancouver National Historic Site is a living history museum, where costumes play a central role in recreating the historic scene and helping interpreters present quality programs.
Our Costume Department is run by a dedicated crew of volunteers who procure, fabricate, catalog, and research appropriate attire and accessories. Specializing in the fur trade and early military eras of the Pacific Northwest (1825-1945), they meticulously reproduce both patterns and costumes from museum originals or period illustrations. Authenticity is important in every detail, from correct fabric to hand-sewn seams and buttonholes.
Interpreters at Fort Vancouver and Vancouver Barracks can choose from over 5,000 items or, for special events, costumes may be made to order.
Whether outfitting French-Canadian trappers or the members of the Vancouver Occidentals Base Ball Club, the Costume Department focuses on the "look" of the past to enhance our telling of history today.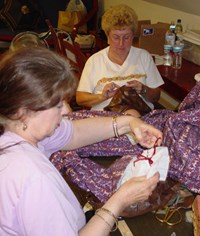 The Fort Vancouver Costume Department is always looking for volunteers with an interest in textiles or personal items, such as adornment.
For more information on the Fort Vancouver Costume Department, to make a donation, or to inquire about volunteer opportunities, please contact the Costume Department at (360) 816-6259.
Last updated: September 15, 2016