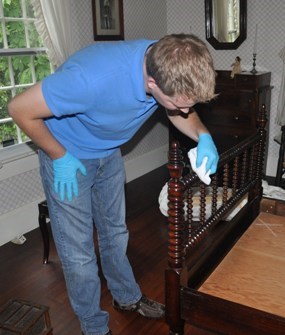 In the fall of 2011, in a project undertaken by Fort Vancouver curatorial employee Jeff Cool, with assitance from Museum Technicians Meagan Huff and Heidi Pierson, nearly forty pieces of furniture in Fort Vancouver's Chief Factor's House and nine pieces in the McLoughlin House were cleaned and preserved.
Using a careful process, Jeff first used distilled water, small amounts of mild liquid dish soap, and lithographer's pads to remove dust, oily dirt, and waxy residue from the surfaces of wooden furniture. On stable pieces, Cool then applied a coat of paste wax.
By removing the grime and old wax of over one hundred years of use, and by applying a fresh coat of paste wax, the furniture in these exhibit spaces can truly shine, allowing visitors to better imagine what life would have been like for the people who first used them.