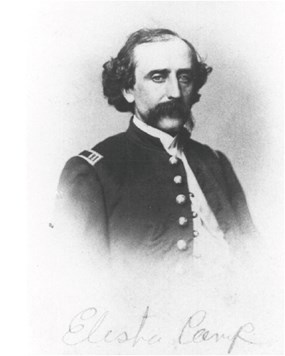 by Patrick Neal
Elisha Ely Camp arrived in Vancouver in September, 1852, as sutler with the Fourth Infantry. Also with the Fourth Infantry was Captain Ulysses S. Grant who served as quartermaster. Camp and Grant were met each other while Grant was stationed at the Madison Barracks in Sackets Harbor, New York, Camp's home town.
After arriving in Vancouver, Camp purchased the sutler's store with financial help from Grant. Camp established a profitable business selling items not only to soldiers, but also to their wives and the larger civilian community. He stocked a wide variety items including spices and herbs, coffee, tea, cans of lobster, sardines, oysters, and cheese, flour, cornmeal and yeast, casks of brandy, cases of cider, cigars, pipes, tobacco, boots, shoes for women and children, clothing, wool socks, bags of shot, powder, various patent medicines and many other commodities.
Camp became an agent for shipping companies, was an agent for The Oregonian newspaper, and advertised frequently in local papers. Within a few weeks he bought out Grant's interest in the business. Grant estimated Camp was making over $1,000 a month. However, early in 1853, the sutler's store blew up and Camp returned to New York, staying only eight months in Vancouver.
Elisha Camp was typical of Army sutlers of the 1850s. Many sutlers were former military officers, and Camp had served as a Lieutenant in the Mexican War. Sutlers tended to have business experience, and Camp had served as the sutler at Fort Howard, Wisconsin before suttling in Vancouver. And, like Camp, many sutlers stayed less than two years at their post.