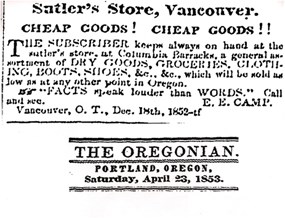 by Olivia Tolle
Domestic life during the era of the Army's Vancouver Barracks was very different from life during the Hudson's Bay Company (HBC) era. Soldiers often had female camp followers and the officers' wives would sometimes live with them. Domestic goods and services were needed near often-remote Army posts, so to fill these voids sutlers started to travel with armies. In the early 1850s, Elisha Camp became the sutler for Fort Vancouver.
The sutler store became a cornerstone for social activity. Although the army banned soldiers from going to the store after certain hours it was obvious that they were there outside of those times. In order to harness this social life the store starting selling alcohol even though it was illegal. The things found by archaeologists in the Sutler Store privy, or trash heap, tell us much about what was being thrown away and what was sold and taken away from the store.
Archaeological excavations suggest that canned foods and women's cosmetics were purchased at the store and used elsewhere. In the receipts that Elisha Camp kept it is known that he sold the women's cosmetics, but no cosmetics have yet been found in the privy excavation site.
The Sutler Store is an important key to the story of domestic life at Fort Vancouver. Through archaeology, it provides important insight into the domestic life of the post; especially the lives of the post's women and children who followed the Army and used the store to continue ways of life with familiar goods.