Collections
National Park Service museums manage millions of objects, preserved as a legacy for the American people. These objects, specimens, and documents, collected because of their relation to some of our country's most special places, are irreplaceable symbols of our landscapes, our resources, and our history.
Cultural collections - historic materials and archaeological artifacts - are a link to humans in the past. These items help to illuminate our shared history and help define our identities. Such materials have an emotional pull because they are not just sterile objects; each one of them passed through a person's hands, and took on additional meaning because of that connection.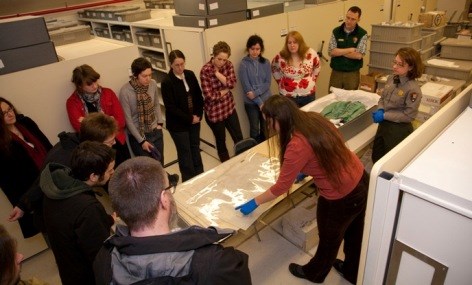 These objects form our biography. They document cultural contact and conflict, technological transitions, and, if examined critically, our knowledge about underrepresented peoples and cultures.
Our care of these collections furthers the National Park Service's mission to protect all resources within the land it manages, and ensure that these critical items are cared for in the public trust and shared with anyone who asks.
No matter what type, museum collections have the potential to inspire curiosity in the past and in the world around us. They can provoke questions about our own role in the process of learning. And they can foster stewardship, an emotional connection with a place that demands that it be cared for appropriately.
We encourage you to investigate your national park collections: to discover for yourself the link between things and people, between specimens and the world around you, between history and today.
Learn more about archaeological excavations at Fort Vancouver National Historic Site.
The Fort Vancouver National Historic Site museum collection contains over 2.8 million artifacts. Learn more about what these artifacts can tell us about the site's history.
The Northwest Cultural Resources Institute (NCRI) is a cooperative partnership based at Fort Vancouver National Historic Site, dedicated to fostering cultural resources research, education, and stewardship in the Pacific Northwest.
Fort Vancouver National Historic Site is a living history museum, where costumes play a central role in recreating the historic scene and helping interpreters present quality programs.


Last updated: January 16, 2018