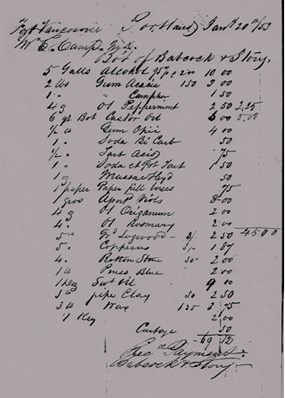 by Emily Stuckman
Sutlers at Fort Vancouver stocked a variety of goods and operated much like a general store. They supplied soldiers and settlers with cloth, food, medicines, shoes, and many other articles necessary for life on the frontier.
Most Army forts and encampments in the mid 1800s had a sutler store somewhere near the barracks. Though they were attached to the Army, the sutler store might be the only store in an isolated community and so civilians also purchased goods there. The sutlers at Fort Vancouver in the 1850s and 1860s sold goods to trappers and settlers as well as soldiers at the Barracks. Sutlers were civilians but operated under the jurisdiction of the Army and were subject to price fixing regulations to keep them from overcharging.
Sutlers also set up dining areas and sold hot dinners to soldiers and civilians. The use of the sutler store as a meeting place likely fostered better relationships between the community and the U.S. Army barracks.
Conflict arose between the sutlers and Army officers at Fort Vancouver over the issue of alcohol. At various times, Army officials tried to enforce a ban on selling alcohol to enlisted men. Evidence from archaeological digs suggests that sutlers either ignored these bans or simply sold alcohol secretly. Alcohol sales were likely a large part of the sutler's profit, so it is not difficult to see why he would be reluctant to give up selling it.