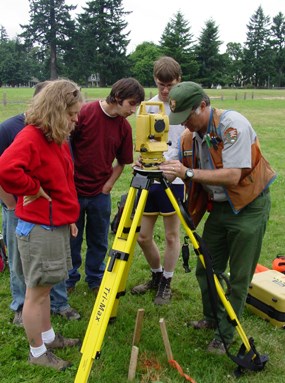 Overview
In the summer of 2006, the National Park Service, Portland State University, and Washington State University Vancouver, held the 6th annual field school at the Vancouver National Historic Reserve.
The two-part program introduced students to the methods and theories of fieldwork in historical archaeology. Students participated in all aspects of field and lab work: laying out units, excavation by shovel and trowel, mapping, drawing, photography, and cleaning, identifying, and analyzing artifacts.
The season also included a lecture series featuring guest speakers and staff.
Project Focus
The Vancouver National Historic Reserve is an unparalleled archaeological laboratory, comprising the remains of Fort Vancouver, the ca. 1825-1860 regional headquarters and supply depot for the Hudson's Bay Company, and Vancouver Barracks, the first (ca. 1849-2003) permanent U.S. Army post and command center in the Pacific Northwest.
This year's project continued investigations of the 1829-1860 Fort Vancouver garden.
We were soon conducted by the Doct [McLoughlin], to his Garden, & be assured we were not a little surprised to see west of the Rocky Mountains, where we did not expect to meet scarcely the first buddings of civilization, such perfection in gardening. About 5 acres laid out in good order, stored with almost every species of vegetables, fruit trees and flowers. A greater variety indeed than is often met with in the States...Everything produces well,"Henry Spalding, 1836.
Excavations searched for remnants of the garden well, paths and beds, and collected samples for analysis of plant remains. Knowledge gained assisted in the examination of the human-landscape interrelationship at Fort Vancouver, including the significance of the garden landscape, its layout, and the plants that grew in it. The results will support the reconstruction and interpretation of the garden area.
Remnants of Army activities associated with both World Wars I and II were expected. Work also explored the U.S. Army's Vancouver Arsenal (1856-1878) and included traditional pedestrian survey and subsurface testing techniques.
The National Park Service and its partners are committed to sharing cultural resources and preservation values with the public. On a rotating basis, students discussed field school activities with visitors, interpreting the significance of the site and the educational purposes of the project.