Teaching the Village with Artifacts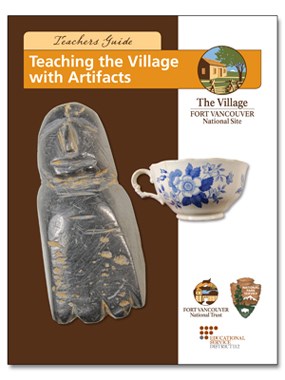 Teaching the Village with Artifacts
A curriculum-based program for Grades 6, 7, & 8, but may be adapted for grades 4, 5, 9 & 10.
Teachers have long turned to Fort Vancouver National Historic Site when teaching Pacific Northwest history. This series of lessons invites you to turn your attention to the Fort Vancouver Village, which was the home for many hundreds of Hudson's Bay Company (HBC) employees, their families, and visiting traders and travelers during the period of 1829 to 1860. Fort Vancouver's Village in 1840 was the most densely populated settlement in the American West, rivaling San Francisco and Sitka, and exceeding the not yet established Seattle, Portland, and Vancouver, BC. It was a highly diverse population, with residents from Europe, over 30 American Indian tribes — spanning the continent from the Iroquois nation to Native Hawaiian Islanders — and those of multiethnic origin, the Métis.
This series of lessons invites students to learn about this surprising story using objects left behind by the villagers themselves. As such, it encourages learners to engage in the kind of historical thinking expected by Washington's Grade Level Expectations (GLEs) and Classroom Based Assessments (CBAs.) Our experiences suggest that this is a unit best taught to middle school students, but one which could easily be adapted for elementary or high school students. The lesson series would serve students before, after, or instead of a field trip to Fort Vancouver.
Teacher's Guide: Teaching the Village with Artifacts
Last updated: August 2, 2023