Bookstore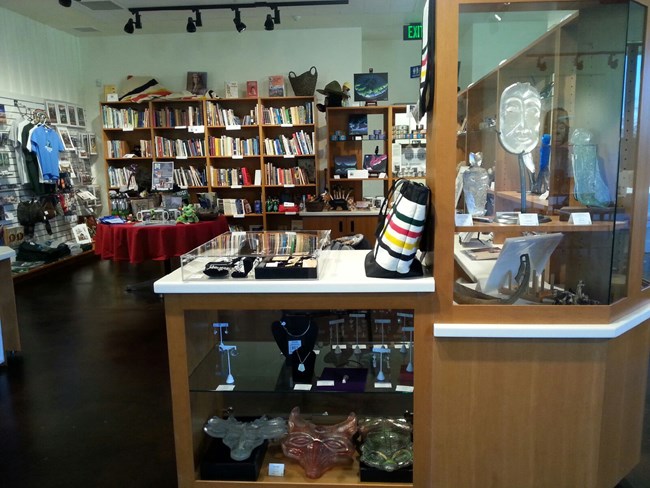 Fort Vancouver National Historic Site tells many stories, from the Native Americans who called this land home, to the village families who forged unique ways of life in the Fort Vancouver fur trade era, and the soldiers who occupied the Vancouver Barracks in the early years of the Oregon Territory. Items often invite visitors to share these unique stories with others, and are tokens of experiences shared by visitors at the park. Each item at our park bookstores is carefully selected to tell a story about Fort Vancouver National Historic Site.

Fort Vancouver National Historic Site has two bookstores. One bookstore, at the Fort Vancouver Visitor Center, is located in Vancouver, WA. The other, at our McLoughlin House Unit, is located in Oregon City, OR.
Friends of Fort Vancouver National Historic Site Bookstore
1501 E Evergreen Blvd., Vancouver, Washington
This is the primay giftshop at Fort Vancouver National Historic Site. The shop is run by Friends of Fort Vancouver National Historic Site, a 501(c)(3) non-profit organization incorporated in the State of Washington. Their mission is to seek to increase knowledge and awareness of the park, promote education, support stewardship, preservation, conservation, protection and maintenance of the Site and its heritage. Friends of Fort Vancouver National Historic Site assists the National Park Service and our volunteers, engages in fundraising, and collaborates with other organizations to enhance the effect of our mission and goals.

To limit congestion in the small space, field trip groups are limited to 10 children inside of the bookstore at a time, accompanied by two adult chaperones. If your school group is larger than this, there is plenty of room in the Visitor Center for students to explore with adult chaperones as they rotate in groups through the bookstore.
McLoughlin Memorial Association Bookstore
613 Center Street, Oregon City, Oregon
Another bookstore can be found at the park's McLoughlin House unit in Oregon City, Oregon. It is located in the Barclay House, next door to the McLoughlin House on Center Street. This bookstore is operated by McLoughlin Memorial Association, a nonprofit organization incorporated in the state of Oregon. The organization was founded in 1909, when a group of concerned citizens banded together to preserve John McLoughlin's historic home. The mission of the McLoughlin Memorial Association is to assist in the promotion of Dr. John McLoughlin and his associates through education, interpretation, preservation, respect, and appreciation of our heritage. Visit the McLoughlin Memorial Association Bookstore for items centered around Dr. John McLoughlin, the making of the American Oregon Territory, and the British Fur Trade in this region.


Last updated: March 14, 2017