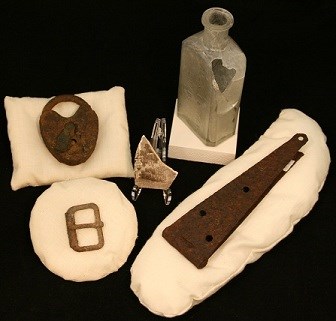 Unearthing the Past,
Discovering Today
In the decades after 1867, when the Army and passing steamboats' crews razed the post, scant evidence of Fort Union remained visible above ground: ceramic shards, scattered metal scraps, and broken glass.
Farmers, fur trade historians, and the residents of Mondak, Williston, and other nearby communities nonetheless knew where Fort Union had stood: atop the high riverside gravel bed observed in 1805 by the passing Meriwether Lewis and William Clark. Some of these individuals recognized the site's national significance, while others didn't. For most, the demands of everyday life—of planting and harvesting, of supporting families—consumed their attention.
By the early 1900s, however, farmers who had started to plow and plant the site's surrounding fields often brought to the surface tell-tale signs of a vast but buried harvest of artifacts: glass beads, shell casings, buttons, the rusted remnants of hand-forged tools, building materials, clay pipe fragments, and bison and human bones. As the years passed, area residents and history enthusiasts explored the post's grounds, one historian wrote in 1938, and collected what they found for personal collections: "old hinges, locks, harness buckles, arrowheads, . . . , pieces of tools and other artifacts." In the meantime, because increased automobile use led to demands for more gravel-based roads, gravel mining commenced on the buried fort's west side, where today's parking lots are located.